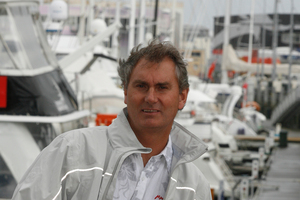 One of New Zealand yachting's most famous boats is returning to home waters.
Today's issue of The Aucklander reveals that Steinlager II has been bought by the New Zealand Sailing Trust and will sail into Auckland on May 5, berthing at the Viaduct where it will stay.
The 25m maxi ketch was made famous by the late Sir Peter Blake, who took it to victory in the 1989-90 Whitbread Round the World race, winning all six legs over the line and on handicap, a record that still stands.
Swiss owner Stefan Detjen has had the boat, nicknamed Big Red, for 12 years, but rumours that it was for sale began not long after he returned it to its famous colours.
Owen Rutter, who sailed with Sir Peter on Ceramco for his first Whitbread attempt, recently had the chance to sail on Steinlager II in Alicante, Spain, in the Volvo Ocean Race Legends regatta.
He told The Aucklander that it was great for New Zealand's sailing history that the boat would return home.
"It's been talked about for a long time. Rumours heated up when the boat was returned to its original colours and livery and now it's been done."
Tony Stevenson, from the NZ Sailing Trust, said he hoped the yachting fraternity would be out to welcome the boat home.
"It would be great to have as many boats out there as possible, to give her a decent welcome. She's been away for more than 20 years so it's great to have the boat join Lion New Zealand on our waterfront for everyone to enjoy."
Steinlager II will sail past North Head around midday on May 5, and will go on display at the Viaduct on May 6 between 10am and 4pm.
People can go on board in return for a gold coin donation, which will go to the NZ Sailing Trust youth development programme set up in memory of Sir Peter, who was killed by pirates on the Amazon river in December 2001.
Read more on theaucklander.co.nz