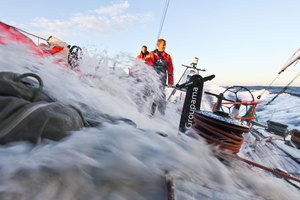 The carnage from a dramatic fifth leg of the Volvo Ocean Race continued overnight when Groupama broke their mast with victory in sight.
Groupama, who have led for most of the leg and were looking for consecutive victories after winning the last leg to Auckland, were locked in a tight battle with Puma when the rig broke. They had just 677 nautical miles left before the next pit stop at Itajai, Brazil and are about 60 miles south of Punta del Este, Uruguay.
They have not requested assistance but temporarily suspended racing and are considering continuing the 677nm under jury rig to the finish in Itajai, or making for Punta del Este for a replacement mast. The team's spare rig is in a warehouse in the Netherlands.
"We just lost the rig now, all the crew is safe. We are working to stabilise the rig on the boat. Not easy," a desolate skipper Franck Cammas told race HQ. "We suspend the race now and have a look at what doing. We are 59 miles to Punta del Este."
It means only Puma have escaped any damage of the six boats on the fifth leg.
Team Sanya returned to New Zealand after breaking their rudder and will rejoin the race on the seventh leg, Abu Dhabi suffered two mishaps and withdrew from the leg yesterday after docking at Puerto Montt in Chile, Camper are repairing their damaged bow at Puerto Montt and intend continuing this weekend and Telefonica also stopped for 17 hours to repair their boat.
Incredibly, Telefonica have made up 400 miles on the leaders and are only 36 miles behind with 575 miles of race remaining.
Volvo Ocean Race boss Knut Frostad, who competed in the event four times said it was unacceptable to have so many cases of boats failing.
Race organisers would continue to do everything possible to get the boats not sailing back in the race as soon as possible.
"It is not unusual for boats to suffer problems, and sailors and shore teams are used to having to deal with some issues with their boats, but this has been on a bigger scale than in the past.
"It's important that we don't leap to any conclusions about why these breakages have happened. Some of them are clearly not related (to each other). However, we will take the current issues into account as we make decisions on rules and technology we will be using in the future.
"We have already put in a lot of work, discussing with teams, designers and all other stakeholders about the boats and the rules we will use in the future, and we expect to be in a position to announce a decision on that before the end of the current race.
"For the time being, our focus continues to be on the safety of the sailors. We are doing everything we can to help Groupama, and the rest of the teams not currently sailing, get back in the race as soon as possible."
- APNZ