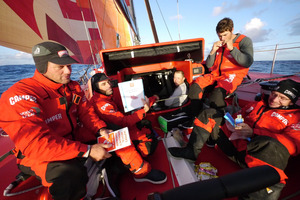 Camper crewman Tony Rae arranged a cocktail party aboard the damaged boat to celebrate the fact they had "only" 2000 miles of the Southern Ocean to traverse to reach their pitstop in Chile.
The Team New Zealand boat still has at least seven days of slow sailing before essential repairs can be carried out on their damaged bow.
Trimmer/helmsman Rae took advantage of relatively calm conditions in the Southern Ocean to organise an on-deck cocktail party with the crew bringing books (boat instruction manuals) and snacks (dried fruit, energy bars and gel shots) to share.
Trimmer Rob Salthouse also took time out from his repair efforts to fashion up a fishing lure out of scrap metal, needles and tin foil in the hope of catching some fresh fish for the crew.
Skipper Chris Nicolson said the improved conditions and prospect of a quick turnaround in Puerto Montt meant the crew were in good spirits.
"It's probably the first time that the weather's gotten back to a more normal pattern. We're still in a leftover seaway but life onboard is quite normal. We're able to push the boat much harder than previously," he said.
"I think it will take a bit over seven days to get there. Weather-wise, there's no doubt that this is a hostile part of the world in regards to the fronts and their severity. We just have to keep in mind that we're in a big expanse of water and plan accordingly.
"All things considered though the guys are in good shape and determined to get back racing and get those points that are still on the line."
Those points could become even more crucial with news overall leaders Telefonica will also make a pitstop in Argentina to repair their damaged bow.
Four of the six boats in the Volvo Ocean Race have now suffered damage on the 6700-mile fifth leg from Auckland to Itajai, leaving only Groupama and Puma, who are duking it out for the lead, to race at full speed.
Full speed in the Southern Ocean, however, is as fast as they can push the boat without it suffering severe damage. Wind gusts of more than 45 knots and seas of up to 6m battered the fleet yesterday and survival is the priority.
Amazingly, Abu Dhabi, who are 1426 miles behind leaders Groupama after being forced to turn back and make repairs in Auckland early in the leg, are eyeing a podium finish with both Camper and Telefonica due to make repairs. Team Sanya returned to New Zealand a few days ago with a broken rudder and will rejoin the race on the seventh leg from Miami.
Telefonica also plan to complete the leg after they repair damage to their bow in the Argentine port of Ushuaia. The Spanish entry announced several days ago they were slowing down to prevent further damage.
- APNZ