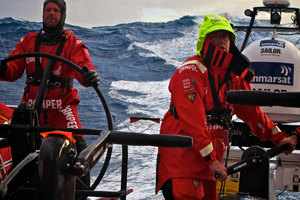 Camper have dropped from first to fourth in the Volvo Ocean Race leg from Auckland to Brazil after slowing to repair damage to the boat's bow.
The damage occurred in 50-knot winds and 5m seas in the Southern Ocean after Camper fell heavily off a large wave which navigator Will Oxley said felt like "being dropped from a two-storey building".
Skipper Chris Nicholson decided to de-power the boat in order to assess the damage and carry out repairs, with Camper forced to sail several knots slower than its rivals for the last 12 hours and dropping over 100 miles from first place to fourth.
Nicholson said his crew was safe and the boat in no immediate danger.
"The boat is in no immediate danger and the crew is fine, but with the bow now flexing and the weight of wind we cannot push on as fast as we would like," he said.
"We are starting on repairs that will allow us to get going as fast as is practical.
"We've had the hammer down and had been pushing pretty hard, and the reality is that in these conditions sometimes things can and do go wrong.
"It's pretty extreme out here and while it's hugely disappointing to have to give up our lead the important thing is that we look after the boat and crew and get things back into the best shape possible. It has been a very tough 24 hours."
Camper's problems allowed France's Groupama to take pole position, Team Telefonica second place and Puma Ocean Racing third.
Puma navigator Tom Addis said his team were not overly concerned by their position as they trekked towards Cape Horn.
"Positions are easily hyped but everyone's just looking after themselves," he said. "There's very little boat-to-boat strategy while the focus remains going fast at a heading that's generally east and trying not to break anything."
Abu Dhabi Ocean Racing remain in the fleet's wake in fifth position while Team Sanya continue to head for New Zealand to repair damage to their starboard rudder.
- APNZ