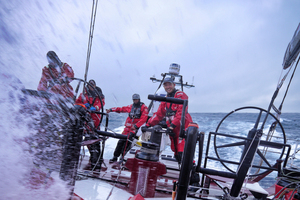 Camper with Emirates Team New Zealand is in the lead in extreme Southern Ocean conditions, but the crew is fighting hard to control the boat in winds gusting up to 50 knots and boat speeds peaking at over 30 knots.
Over the last 24 hours Camper has been pushing hard to gain an advantage over the rest of the fleet carrying a spinnaker longer than anyone else, but with conditions worsening focus has turned to survival and reining in the power of the boat.
Camper is currently in first place 10.2 nautical miles (nm) ahead of Groupama, with Telefonica in third place 26.8 nm off the pace.
With Cape Horn just under 3000 miles away less than 50 nm separate the top four boats as they race at high speed through the remotest area on the planet. The wild conditions have seen Camper clock up the best 24 hour run of the leg so far with a 530 nm plus effort.
Camper skipper Chris Nicholson says that it's a fine balance between racing and preserving boat and crew.
"We've had the hammer down and have been pushing pretty hard, but in these conditions you just can't do that all the time.
"It's the age old question of just how hard do we push it? It is a very fine line.
"I don't feel comfortable talking about being in the lead right now because with one slight problem it will evaporate in no time. This is like driving the highest performance car on the roughest road you can imagine - things will go wrong.
"The boat is generally in good shape though. We've had a couple of enormous nose dives but that's the Southern Ocean for you.
"It's a pretty stressful situation and your total focus is just on keeping everything in one piece. Conditions are horrendous and fatigue is setting in, so it's all about keeping safe and you almost forget about the race at times."
Camper in the latest position report at 0900h 24 March NZT is sailing at 18 knots in a 33 knot south westerly.