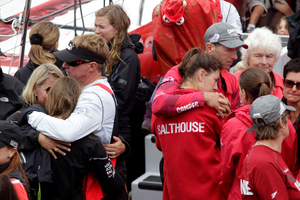 Kiwi skipper Mike Sanderson calls it "boarding school stomach".
It's the empty feeling in the pit of your gut on the first night at sea away from the comforts of home and with the tearful farewells from family and friends still fresh in the mind.
Sanderson, a veteran of three previous Volvo Ocean Race campaigns, said leaving the dock to embark on another gruelling leg was never easy. But the Auckland skipper of Chinese entry Team Sanya said yesterday's departure from his home port was the "most brutal" he'd experienced.
Not just because he is anxious about the treacherous conditions the fleet will encounter on the 6705-nautical-mile slog to the Brazilian city of Itajai, but because this is the first time he's sailed into the Southern Ocean since becoming a dad to 4-year-old Amelia and 2-year-old Merrick.
"This one has been hard for lots of reasons - this is the first time I'm going into this leg with two little kids running and jumping on the bed.
That makes a big difference, I'm not going to lie," said Sanderson, who won the 2005/06 race with ABN Amro.
"I have my moment with them at home and then I have to slip into a semiconscious state of thinking about racing the boat, because otherwise you'll beat yourself to death."
Sanderson is leading a development crew on board Sanya as part of an attempt to build the sport's profile in China.
The team, who are last in the overall standings, led the fleet out of Auckland yesterday - a huge achievement considering they are sailing in a boat recycled from the 2005/06 race.
But with the fleet headed straight for a real test of the elements with gale-force wind warnings in place, the celebrations will be muted as he braces his crew for a rough first night at sea.
"We've got it pretty stacked up against us for the first night. It's always a bit shitty when that happens because instantly the boat is wet and there's water everywhere and you've got another 20 days in wet gear."
After having just six days to recover from leg four - a 20-day voyage from China to Auckland - Camper skipper Chris Nicholson said it was extremely tough to get his head around tackling the Southern Ocean so soon.
On Saturday the New Zealand boat was tearing around the Waitemata Harbour, taking line honours in the in-port race; yesterday it was headed for Cape Horn.
"I just sort of woke up this morning and was questioning how ready am I for it? The only thing you can take comfort in is that that's what everyone is saying at the moment ..."
While most of the crews were trying to take it easy last week, Team Telefonica's Joca Signorini travelled to the other side of the world to meet his new baby daughter, Sandra.
On arriving in Auckland two Sundays ago, the Brazilian sailor got straight into a waiting taxi to take him to the airport to fly back to Sweden. By Friday afternoon he was back in Auckland preparing for leg 5.
"I had three nice days, it was very special for me to be there with my little one and my wife."