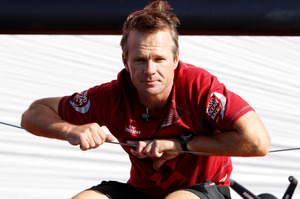 After just three days' rest the Volvo Ocean Race crews will be back on the water today as they gear up for Sunday's departure.
The Auckland stopover has been the toughest turnaround for the six-boat Volvo Ocean Race fleet so far - but the shore teams have won the race against time to see their boats back in the water ahead of today's practice race.
A later-than-expected arrival into Auckland, combined with a short stopover, left the crews just six days to prepare their VO70s for leg 5 from Auckland to Itajai, Brazil, through the Southern Ocean.
During the leg the fleet could face mountainous seas and wind speeds as high as 60 knots during the 6700-nautical-mile leg.
But a round-the-clock operation from all the shore teams has seen all the necessary repairs carried out, including the fixing of a hole in Groupama's bow.
Puma were the first to get their boat back in the water yesterday from their cradle in front of the Viaduct Events Centre, followed closely by Team New Zealand. The Camper shore crew had the extra time pressure of needing to get the boat back into the water by early afternoon with Emirates Team New Zealand opening the doors to their base to the public yesterday.
The biggest challenge faced Groupama's boat-building team after the crew arrived in Auckland with a hole in the bow, picked up on the final stretch of leg 4.
"The guys have done an incredible job," said Groupama shore team manager Ben Wright. "When you've got guys that are motivated, you can get through almost anything."
While most of the sailors have been resting physically for the past couple of days as the shore crews got their boats back in shape, they have had little chance to switch off from the race. The limited preparation time for leg 5 forced the crews to go straight into planning mode for the next leg upon their arrival in Auckland.
But Camper skipper Chris Nicholson said his team are still playing catch-up as they plan their passage through the Southern Ocean.
"If this was a previous stopover, we would already be doing our one-hour meetings every day in regards to the weather. Our first weather meeting is today, so that's where we are at in terms of trying to get back up to speed for this weekend," said Nicholson.
The teams will go head-to-head again in tomorrow's pro-Am race out on the inner harbour before the points go on the line in Saturday's in-port race.