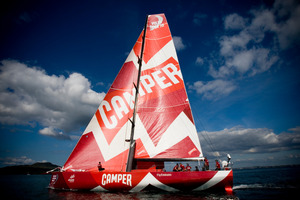 Grant Dalton did us a favour this week when he conceded, two days out, the New Zealand entry in the round the world yacht race would not lead the fleet into Auckland today. He said Camper was "not fast enough basically ... it is what it is".
We are not accustomed to this sort of candour. Does he not know the sports fan's rule that nothing less than victory will do? That winning is everything and second is nowhere? Of course he does. That's how he nearly beat Sir Peter Blake home in their epic finish to the 1989-90 Auckland leg.
His candour this week is welcome because it suggests he detects a more mature attitude in the country to top-flight sports events, attributable perhaps to a catharsis called the Rugby World Cup.
The crowds already enjoying the festivities at the Viaduct Harbour yesterday suggest he is right.
The waterfront has been set up well for the Volvo Ocean Race stopover and the fun started well ahead of the likely arrival of the first yacht this morning.
It's 10 years since the city last hosted a round-the-world race and the hosts are calling it "coming home".
May that billing prove true. A global race needs an antipodean call as much as Auckland needs the event. Aucklanders will relish the presence of the fleet over the next week and be glad that one is carrying our flag. We appreciate the Kiwi effort; we cannot win them all.