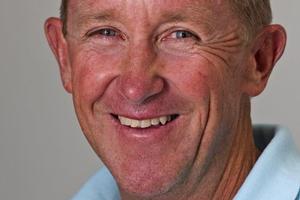 At long last we are going to see some racing in the America's Cup.
With a couple of court cases still pending, next week's one-on-one showdown between Alinghi and BMW Oracle may not bring an end to the whole sorry saga, but make no mistake - this is progress.
For the challengers like Team New Zealand it finally gives them some sort of certainty - they know there's going to be a race and they can now see the light at the end of the tunnel. Of course, if Alinghi wins, BMW Oracle will have them back in court, and probably the other way around as well.
But even that aside, it's no longer years away, it's now months away that the likes of Grant Dalton will have something to aim at, and I think that's important.
The bitter legal wrangles between Alinghi and BMW Oracle over the past few years have been undoubtedly the bleakest period in the long history of the America's Cup.
For those who are passionate about the sport it's absolutely gutting that there hasn't been an opportunity for the challengers. But history also tells us there just may be a positive to all of this.
The 1988 Big Boat Challenge, like this, was an absolute mess but from that transpired the International America's Cup Class (IACC) rule. That came about after all the syndicates and designers of that time got together once the dust had settled and developed some parameters and rules that will serve the America's Cup well. It lasted right through to 2007 and we had 20 years of perhaps the best America's Cup yachting ever, with an open challenger series.
I'm hoping that at the end of this we'll see another evolution. Let's hope whoever the defender and whoever the challenging syndicates are can come up with a rule that will form the basis of something pretty neat for the America's Cup for the next 20 years. Because for me, time was up for the IACC class - it does not reflect the technology of today.
On another positive note, while endless court cases and appeals have been extremely frustrating, the two boats evolved for this regatta are something special. It will be unlike anything seen before: as a yachting enthusiast you have to marvel at both boats.
What the designers and builders have come up with is phenomenal; reflecting the very, very best of modern design and technology. And a lot of that is down to the Kiwi expertise on both teams.
If you're going to compare the two, Alinghi appears to have the finesse.
It's a beautiful-looking boat and I'm sure it's blisteringly quick. Oracle is a brute of a boat and really, really grunty. It's a beast.
While these two boats are equally impressive, I don't believe it will necessarily be a close-fought series. The two boats are radically different and it looks like weather is going to play a huge part. If the wind is in the lighter range, the Alinghi boat is looking pretty good, while USA17 is likely to perform best in fresher breezes.
Another big factor will be reliability. You're not going out for 20 minutes and screaming around at 30 knots: these things have to sail for four hours. We've already seen a lot of gear breakages - not gear breakages that will stop them from sailing, but gear breakages that will stop these boats performing at their optimum.
We are in for an intriguing week.