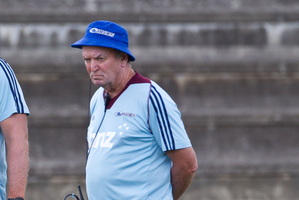 Sanzar have been getting some stick lately but if they are going to be a credible rugby organisation they need to adapt better.
Unless they are seen to be doing things and interacting with their constituents - players, coaches, spectators, TV subscribers - they will incur more of the outbursts which delivered Graham Henry into the dock.
Other senior coaches such as Jake White, Dave Rennie, Ewen McKenzie and Allister Coetzee have been driving similar messages.
If those very experienced and sometimes subjective men are confused about rulings they see out on the rugby field and on their laptops, how on earth are those who rock up for their weekly footy diet going to understand?
Sanzar are under-resourced and that is something for the member nations to redress. They have a raft of issues to get sorted from their refereeing to their schedules.
There is no excuse for the iniquitous format.
It is unjust when teams do not play every other side.
This year the Chiefs avoid meeting both the Bulls and Brumbies who lead their conferences while the Crusaders dodge the Reds and Cheetahs.
Meanwhile, the Blues do not get to play the Kings and Force who languish in 13th and 14th place on the points ladder, and have yet to travel to South Africa.
That is one of the downfalls of a conference system which has ramped up the local derbies.
Sanzar will produce counter-arguments about delivering new content the unions and broadcasters want. They will also bring out figures that show increased audiences.
That's does not prove people approve of what they are seeing or getting. It shows they like rugby and the current Super 15 format is their only option.
In World Cup year, the tournament runs through the June test window with a truncated playoff series.
In 2011, it started on February 18 before the Reds claimed the title on July 9.
This year, because of the Lions series in Australia, there is another series interruption to a tournament which began on February 15 and will have an August 3 conclusion.
In another two years there will be a different version because of the World Cup in England then the Lions tour here in 2017.
Administrators know about these schedules. When will they get better at planning and understand that less is best, quality before quantity?