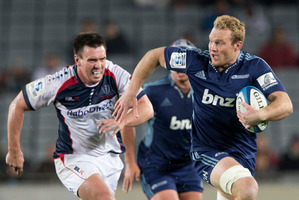 Most would agree the All Black selectors have picked the bulk of the country's top talent in their 38-strong training group.
There will be a few votes for Luke Braid, Tanerau Latimer, Matt Todd and Corey Flynn but multiple nods about Robbie Fruean's exclusion.
My dispute with their decisions, though, comes on several fronts.
• Why assemble a bloated group now and disrupt the Super 15.
• Why pick blokes who are out of form.
• Why not pick a fit, form squad on June 2 for the opening June 8 international with France.
Something needs to be done to redress the incentives in a rugby season. At the moment those who have worn the international garb seem to get a protected ride through the Super 15 and then into the test group for a further significant payday.
There is something wrong about a structure where some experienced players collect serious wages because their teammates do much of their franchise donkey work.
If all the wider training group remain fit by June 2, I'll bet Steve Hansen a chocolate fish we could sit down NOW and name the group who will go into the June tests with France.
There are 10 uncapped players pitched in alongside 28 others. If the test squad is capped at 30, the newcomers will be Frank Halai and Steven Luatua. If there is one more he will be Ben Afeaki. The rest of the new faces will get a look and feel for all things All Black and then shuffle off to reconditioning work in June.
They will get a sniff of what life is like around the All Blacks, how they go about their business and what the general strategies are to deal with the French invaders.
Around those plans they will be expected to absorb their franchise tactics for a crucial two-match Super 15 stretch before the June interval. For the Chiefs, Blues and Crusaders in particular, those games will have a serious impact on their playoff aspirations.
Imagine Hansen's reaction if the New Zealand franchises told him in the week of the third test against France they needed their players for a few days to freshen tactics before the resumption of the Super 15.
I'll bet him another chocolate fish I know what his reaction would be.