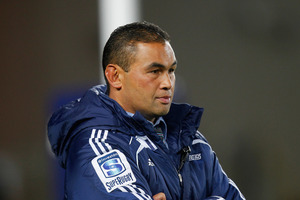 Covering the Blues has been a curious task for a few years now. But this season has been the most exceptional.
It did not start that way. The narrow Eden Park loss against the Crusaders in the first round gave little hint of the dross that would follow.
It didn't take long though. The Blues fell away badly in their next game against the Chiefs; they lost Isaia Toeava and Jerome Kaino for the season and even drew public rebuke from staunch chief executive Andy Dalton.
There have been nine more defeats on the Blues' shabby record sheet and just two victories.
When the Blues returned from South Africa, their results chart showed one of those wins against the Bulls counter-balanced by four defeats.
The year was turning to custard and there was a natural edge to the questions in the regular media gatherings.
When they lost to the Highlanders midway through the series, there was an acceptance that the slim and no chances the Blues were given of qualifying for the playoffs were inflated. They were dogtucker, confirmed rubbish.
One of the original powerhouse New Zealand franchises was now a regular laughing stock. They last won the Super rugby title in 2003, and despite all sorts of talk about development and improvement, they were in even worse disarray.
However Lam was able to headline racism issues and intrusions on his family time which were convenient smokescreens to divert attention from the Blues' failures.
When the talk turned to the footy the chats were more like an easy conversation with your uncle. Lam knew he was toast and the season was stuffed, the media had delivered that judgment regularly, the sparring had eased and the interaction was fairly restrained.
The Blues have been belted by injury and there have been three single-point defeats and several other close losses. Reversing those results would have given the Blues a lingering journey expiry instead of the unremitting fall they have endured.
Right from the start when Lam and his selectors dithered about whether Michael Hobbs, Gareth Anscombe or Piri Weepu should begin at five-eighths, they set a pattern for uncertainty.
Rather than being pampered, Weepu should have been sent to boot camp and told he could not start until he was fit.
Instead the coaches signalled their concerns from the off, about the team's selection and direction.
Let's hope the same disease does not inflict the selection panel picking Lam's successor as Blues coach. When the reviews are being done, if the NZRU and franchise want to widen their remit into the franchise administration, that should be encouraged too.