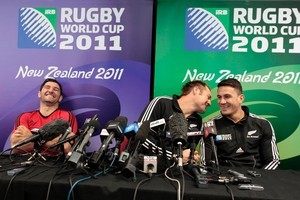 This is an awkward stretch in the week of the Rugby World Cup final.
Five days out from the tournament's conclusion, yesterday was a difficult patch, a twilight zone where some of the All Blacks lost their focus and their manners. It left a poor impression on a global media audience when all they needed to do was be polite for 15 minutes.
That is all that is required of any All Black in any week, hardly a significant wedge of time away from yesterday's training duties.
Most of them manage the task each week, even those like Isaia Toeava, Zac Guildford and the Franks brothers who get few questions. It is an IRB edict and the only official weekly access the media have to the squad.
But Ali Williams, Sonny Bill Williams and Stephen Donald thought it was a time to be funny, either that or they were auditioning for The Crowd Goes Wild. Memo boys, give it a miss next time.
The first question which came from a European journalist brought a whispered response from Ali Williams into Sonny Bill's ear who then announced "his feet were definitely on the ground".
That sort of nonsense went on for a while even under the smirking gaze of the team's media liaison officer. A television reporter asked SBW about the yellow card he was shown in the semifinal, only to have the question batted away by the other Williams.
That was really brave compared with Wales captain Sam Warburton who fronted the full media conference at Eden Park last week to talk through the shock of his red card for a tip tackle.
The same television reporter pointed out he was trying to be professional, but was getting little assistance from the three players at the top table.
Ali Williams then suggested topics for the media and offered a ventriloquist "it was a tackle gone wrong" answer for the audience about SBW's sinbin hit.
Another TV bloke wondered whether there was something wrong as the top table trio giggled away.
At least the trio who replaced them - Adam Thomson, Kieran Read and Ben Franks - acted with far more decorum when they came in for their question-and-answer session.
If only Ali Williams had listened to his own advice when he was quizzed about being prepared for the final and possible aftermath.
"I think we are getting ahead of ourselves. I mean yes you can think of the bigger picture and the what-ifs, but we have still got a - and I know you don't want to hear this - we have to do our job and if the outcome is the desired one then most people thrive on what is put in front of them."
Remember that bit Ali about "doing your job".
Your New Zealand Rugby Union employment contract involves some reasonable interaction with the world media, not your in-house video funnies and goofball footage you and your mates collect along the way.