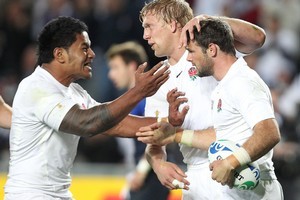 For some reason the England Rugby World Cup team thought they could play expansive rugby.
No doubt they can when they're on the training field, flipping the ball around without pressure or having an opposed run against the East Dawktonian under-14s.
So under the bright-spark organisation of Martin Johnson and backline tuition of Brian Smith, they decided to give it a whirl in their quarter-final against France.
It was like a rerun of the 1991 final when England abandoned the narrow channels which had got them to the final against the Wallabies and tried to give the ball some air.
That was a mess and so was Saturday at Eden Park for the men in white, beaten 19-12 by a French side with no tournament form at all.
Not that England had much more. They'd been ragged in qualifying, unimpressive throughout and lacked the skill, commitment and direction to do any better.
They were dross from the start and only enlivened the tournament when Mike Tindall's bar-room mauling technique was put under the media blowtorch.
For those who went to Twickenham 20 years ago and watched England make a mess of that World Cup decider, this was a numbing rerun.
England have hung their trilby on bashing sides to bits, belting bodies and letting Jonny Wilkinson bang over the goals.
In the last few years their game hasn't advanced. Smash and subdue remain the commandments and against teams without the French resistance on Saturday, that works.
But the Tricolores brought their heart to the park - Thierry Dusautoir was a magnificent leader, Imanol Harinordoquy at his shoulder, Lionel Nallet and Nicholas Mas in the tight stuff and a list of skilled and determined backs.
Asked to do some thrilling stuff too, England's backline had all the alignment and class of a drunken sailor.
They weren't helped by a clumsy pack with a collection of players who ramped up their error rate.
The idea of a twin-pivot playmaker system with Wilkinson and Toby Flood positioned either side of the ruck had some merit. Well, it might have if they were wearing blue jerseys.
Neither that pair nor the team nor the coaches knew how to build phase-play that would have allowed them to consistently get the ball into the hands of speedsters like Ben Foden and Chris Ashton.
It became a pass and hope routine, hope that teammates would catch the ball behind their shoulder or in their ear or along the deck.
They looked like an Austin 7 driver shifting a struggling machine from first gear straight into fourth - clunk.
That takes class, some luck and a bit of co-ordinated practice. Those elements have not been in England's kitbag during this tournament, but at Eden Park they pushed on.
England had been pursuing a World Cup pattern of playing minimal rugby and winning. That was their best strategy, the rugby they understood and played powerfully. Then someone had a brain explosion as significant as Tindall's on his night out.
England tossed the dwarves and seasons of direct rugby out of their dressing room and emerged with a stilted, losing hybrid.
Changes are made between World Cups, not in sudden-death spotlight.
Looseforward James Haskell nailed it when he lamented the defeat and the untapped talent. "At some stage, you've got to stop saying we're going to be something good," he said.
England's record under Johnson's command has been a shade over 50 per cent without any shifts in total quality. They have the talent but only identify rather than use it.