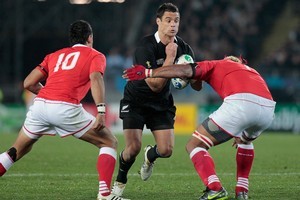 Conspiracy, they all hissed. All Blacks McCaw, Carter, Muliaina and Dagg aren't hurt.
It's just Graham Henry and his cronies protecting their best cattle for the big game against France in the Rugby World Cup.
Oh really? Why on earth would they want to protect a quartet who have had precious little matchplay recently and need to get in the groove for their pivotal game at Eden Park next week.
It really makes sense to sideline Muliaina who is in a desperate tussle to regain some form to hold out Dagg for the fullback jersey in the major matches. It's a smart ploy to keep Muliaina away from test action for at least a month (if he plays France at Eden Park) and away from rivals' radar even though they have 98 tests of footage to scan.
If the All Blacks had wanted to operate a serious player insurance policy they would have selected Zac Guildford, Anthony Boric, John Afoa, Ben Franks and Corey Flynn to start tonight as well.
Then the French would have little footage from this tournament to assess the All Black players and patterns.
Announcing McCaw as skipper and dragging him from his sleep early on Wednesday to churn through his career and all the emotion of preparing for his 100th test was a smart smokescreeen. Now he and Henry will be much better prepared when they repeat the whole routine next week.
The All Blacks' tournament byword has been about making sure nothing is left to chance. A midweek chance for McCaw and Henry to practise their lines was gold.
Speculation will grow as we get deeper into this tournament. All the major sides like training in private and take advantage of the tournament rules which permit this. Other sides who are not so savvy or used to extensive media interest are more welcoming.
But the big guns train in secret, behind tarpaulins, inside security-patrolled stadiums, away from the prying lenses and poking pens of the fourth estate. Fair enough. They need time and space to train.
But then the fourth estate has to wait for teams to deliver information like selections or injury reports when they feel it is appropriate. That timelag between incidents and information release encourages the sort of speculation which swirled around the All Blacks' sudden sick list.