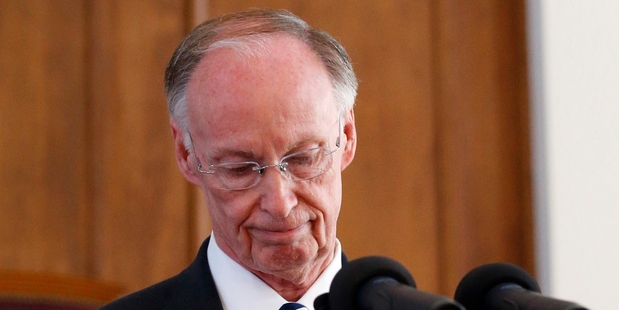 Alabama's Republican Governor, Robert Bentley, stepped down yesterday on the same day state lawmakers opened impeachment hearings against him.
Bentley has fought for more than a year against allegations he used public resources to carry out and conceal an affair with his former top aide.
He also pleaded guilty to two charges related to covering up the alleged affair, one for failing to file a major contribution report and another for knowingly using campaign contributions for personal use, according to the state's attorney-general office.
"I love my people with all my heart," he told reporters.
On his way to officially resign, he showed up to the Montgomery County Jail and posed for a mug shot.
The events leading to the end of Bentley's career were spelled out in the 3000 pages of a report released by the House Judiciary Committee attorney last week detailing various indiscretions the Governor may have tried to keep secret as he allegedly carried out an affair with his married aide, Rebekah Caldwell Mason.
The report says Bentley sent heart-eyed emojis to Caldwell (texts that were linked up to his now ex-wife's iPad) and made threats to the first lady's staff to keep the affair secret. The report also detailed what allegedly went on behind closed doors when Mason, according to the report, left the office "with her hair tousled and her clothing in disarray". After he loses his job, Bentley could face jail time as well. The Alabama Ethics Commission recommended the Governor be charged with four counts related to campaign finance and ethics fraud tied to his affair, including an allegation he illegally loaned Mason campaign money for legal funds.
Alabama Republicans connected to the transition say Bentley plead guilty to charges related to the affair cover up in an effort to avoid potential jail time.
Despite being dogged for a year by salacious allegations of an affair with his top aide and allegations he used state resources to cover it up, Bentley fervently denied he had done anything worth losing his job over. In fact, he never fully admitted to an affair, even after a secretly taped phone call leaked of him professing his love to a woman named "Rebekah".
"I do not plan to resign," Bentley said on the Alabama state Capitol steps just last weekend. "I have done nothing illegal."
But a series of events unfolded over the past few days that intensified the pressure on the Republican Governor to make a decision about whether to keep defending himself in a state House and state court or to step down.