The pilot of the twin engine Grumman Mallard flying boat killed in Thursday's Skyworks plane tragedy on Perth's Swan River reportedly raised concerns about the wind and heat conditions over the city with friend Mack McCormack via a series of text messages, just 30 minutes prior to taking off from Serpentine.
The pilot was father of three, Peter Lynch, 52. The crash also claimed the life of his partner, former Indonesian national Endah Cakrawati, 30.
Lynch had owned the plane since 2011 and had spent more than 120 hours at the controls, reports say.
But new to Perth, he had never before attempted to land it on the river, it has been reported.
Cancelling Perth's Australia Day fireworks was the right thing to do and the event will not be rescheduled, the city's lord mayor said after two people died in a plane crash on the Swan River in front of shocked onlookers.
Lisa Scaffidi reminded those who were disappointed that they were "still breathing" but apologised for the inconvenience caused.
She said the event would not be rescheduled in 2017 and the fireworks would be sent back to the supplier and reused.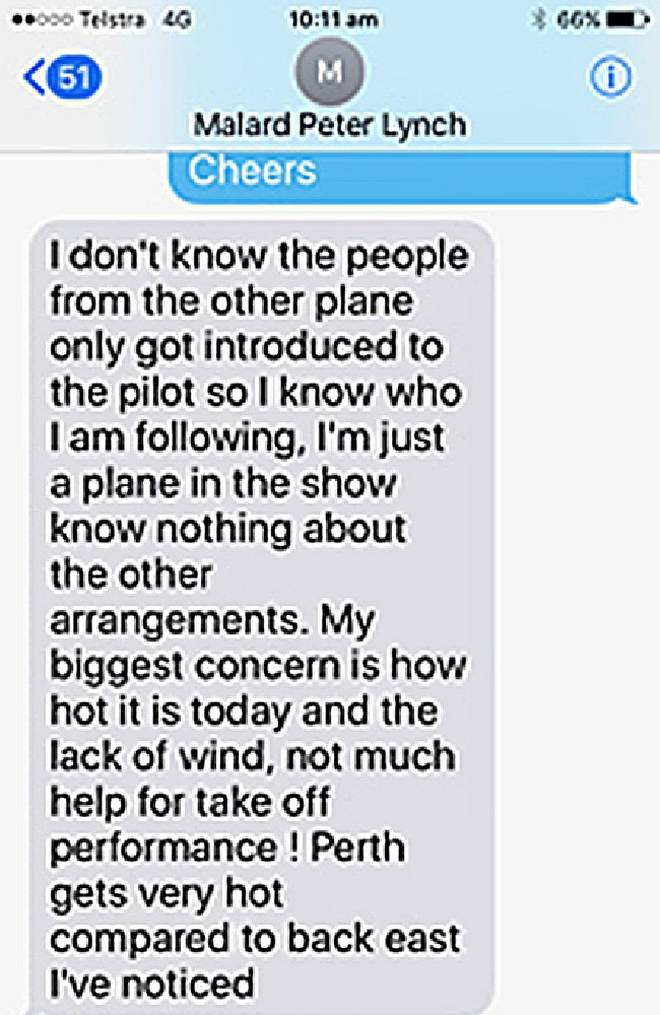 "I can imagine the difficulty of many families having to explain to little children who wouldn't understand why all of a sudden a show they had been talking about for days or months was cancelled," she told reporters on Friday. Ms Scaffidi said more importantly, the city recognised the heartbreak and tragedy for the families of Peter Lynch and his partner Endah Cakrawati, who died in the crash after 5pm on Thursday.
"Thank goodness the plane crashed into the water, if it had to crash anywhere, not into boats, not into people gathering on the foreshore," she said. There were only about 60,000 people on the foreshore when the event was scrapped. It was expected to attract 300,000 people, but very hot weather likely prompted many to hold off their arrival.
WA Police Acting Commissioner Stephen Brown also understood people's frustrations and said even his own children were disappointed but it was the right decision.
"We've got broader considerations here - safety to the public, preserving the scene and good common decency," he said.
Premier Colin Barnett expressed his sympathies for the victims' loved ones, and thanked West Australians for understanding the decision to cancel the fireworks after the tragedy was the right thing to do.
Opposition leader Mark McGowan said it had shaken WA but also backed the decision to cancel Skyworks.
"My heart goes out to the families and friends of the two people involved. They're in all our thoughts and prayers today," he said.
Ms Scaffidi said there would be discussions between the council, the premier and police about the future of Skyworks, adding there would be a tribute to the victims next year.
City of Perth chief executive Martin Mileham said the community would have input.
He said there would also be talks about the future use of planes in the celebrations.
Lynch was remembered as a great mate, beloved father and respected professional.
Lynch's friend Rod Kinnish said the 52-year-old had a vision for an air park at Evans Head in NSW and was instrumental in establishing an aviation museum. He described the mining engineer as a passionate and loyal friend who "made things happen".
"We have lost a true friend, a true visionary and an absolutely brilliant Australian," he told 6PR radio on Friday.
In a 2013 interview with Down Under Aviation News, Lynch said he'd wanted to be a pilot since he was a boy.
"The most enjoyable aspect of flying is the pure pleasure of getting up in the sky and having the freedom to go virtually anywhere," he said. The father-of-three had moved from Brisbane to Perth last year and was the director of business development at Fortescue Metals Group.
He was remembered by chief executive Nev Power as a "great mate".
"He brought energy, enthusiasm and a great team spirit to the role and he will be missed enormously," he said.
Clive Palmer, whose Mineralogy was involved in a hostile takeover of Lynch's Waratah Coal, said he had provided a vision to develop the Galilee Basin.
"His zest for business flowed into his personal life, where his passions for restoring cars, boating and flying, were infectious," he said. Cakwarati, 30, was working in marketing at coal company Cokal, which Lynch started and where he'd previously been a non-executive chairman. WA Police Acting Commissioner Stephen Brown was doing a television interview from the South Perth foreshore as the tragedy unfolded.
"I heard a change in the tone of the aeroplane that was above my head and the people in front of me were clearly distracted," he told reporters.
"I turned ... to see the plane had crashed, that it clearly had broken at least in two significant parts and was sinking very quickly." Vision taken by shocked witnesses and posted on social media showed a huge plume of water as the plane hit nose-first.
"The plane seemed to be banking and then it looked like it was turning too sharply and just seemed to fall into the water," Mark Annette-Stuart told AAP.
Lynch's former partner, Laura, posted on Facebook: "With great difficulty, I am unbearably saddened to confirm that my great friend and the father of my children passed after a tragic accident." He had been participating in a pre-fireworks show.
- with Grant Taylor, Rourke Walsh and Angela Pownall