At least 120 people are dead and rescue crews are racing to save those trapped under rubble after a powerful earthquake brought buildings crashing down and made one city "disappear" in central Italy.
The shallow, 6.2-magnitude quake struck 10km southeast of Norcia, a historic tourist town in the province of Perugia in southeastern Umbria on Wednesday morning, according to the United States Geological Survey.
Officials say Accumoli, Amatrice, Posta and Arquata del Tronto are the towns hardest hit by the quake, which affected the regions of Umbria, Marche and Lazio.
ARE YOU IN ITALY? SEND US AN EMAIL
#Arquata del Tronto #terremoto Questa è la strada che porta in paese a sinistra la Stazione dei Carabinieri pic.twitter.com/4XqBKZMe1F

— GieffeCi (@ci_gieffe) August 24, 2016
The quake was felt as far away as Rome, about 150km away from the epicentre, as homes in the historic centre swayed about 3.30am local time.
The Italian earthquake institute (INGV) reported 60 aftershocks in the four hours following the initial quake, the strongest measuring 5.5.
The mayor of the quake-hit town of Accumoli, Stefano Petrucci, said "now that daylight has come" the disaster was worse than first realised.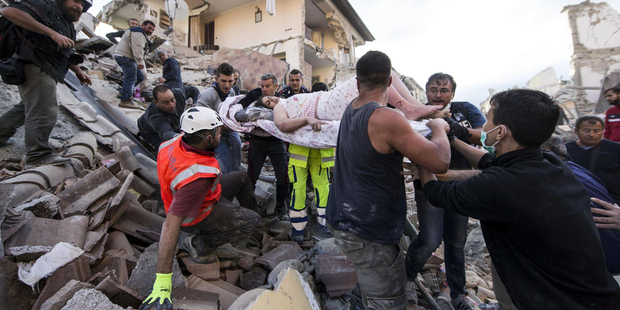 "We see that the situation is even more dreadful than we feared with buildings collapsed, people trapped under the rubble and no sound of life," Petrucci said.
Italy Earthquake Damage: pic.twitter.com/BvF1CGjrFz

— News This Second (@NewsThisSecond) August 24, 2016
According to the mayor, a family of four has been found dead under the debris of a collapsed building.
"Four people are under the rubble, but they are not showing any sign of life. Two parents and two children," Mr Petrucci said.
Police have confirmed that an elderly couple was killed in the disaster after their home collapsed at Pescara del Tronto in the Marche region.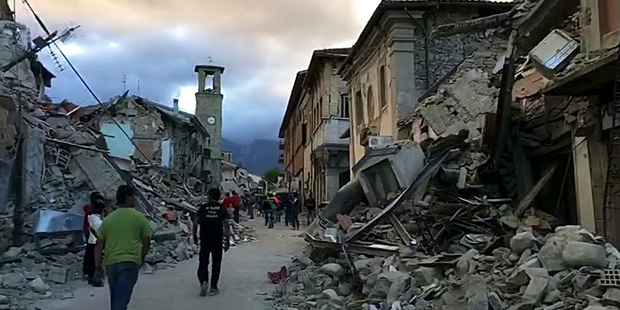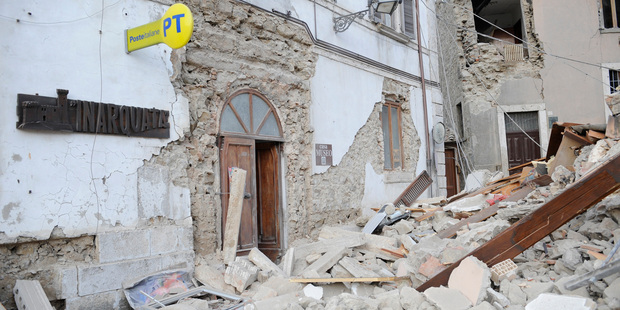 There are reports the city of Amatrice, near the epicentre, was "destroyed" and that "half of the city disappeared".
According to Reuters, the town's hospital had been badly damaged by the quake, with patients moved into the streets.
Amatrice mayor Sergio Pirozzi said the quake was a "tragedy" and that some of his constituents are trapped under the rubble.
Photo from @marco_giuliani shows the extent of the #earthquake damage in #Amatrice, Italy. #terremoto #PrayForItaly pic.twitter.com/6CA16mAc15

— Jacob Goldstein (@GoldsteinStreet) August 24, 2016
"The town doesn't exist anymore," Mr Pirozzi said.
"The ancient doors have come down. We need help from the civic protection.
"It's all rubble, it's a tragedy.
"The aim now is to save as many lives as possible. There are voices under the rubble, we have to save the people there."
Crazy images of earthquake-stricken Italy. Lots of debris as buildings are destroyed. #terremoto #amatrice pic.twitter.com/3zyTkgMWVl

— Jacob Goldstein (@GoldsteinStreet) August 24, 2016
Witnesses told Italian media that many buildings had collapsed in villages close to the epicentre of the quake near the town of Norcia in the region of Umbria.
People reportedly ran into streets in central Umbria and Le Marche, according to state-run RAI radio.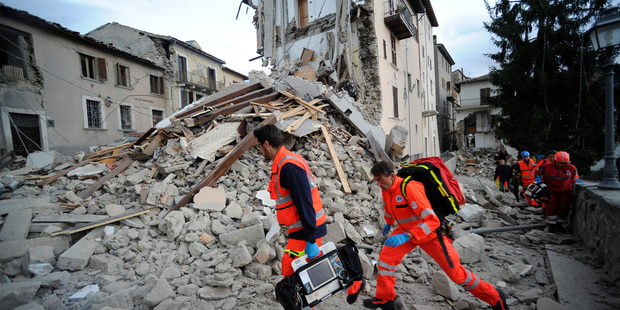 Flavio Maccarone, 35, of the Ascoli Piceno province, told news.com.au the "aftershocks keep going so we are outside praying that it stops soon".
"We feel terrified," Mr Maccarone said.
"It feels like we are experiencing again the Perugia quake in 1997 or the Aquila quake in 2009.
"It never ends. We cannot sleep in peace. We are trying to stay calm but it is hard. Our poor people and all our history is damaged.
"You can't control it. There is nothing you can do. We feel hopeless. The quake affected such a wide area it is hard to send targeted help."
#terremoto a ostia pic.twitter.com/Q5GR9sAARI

— PinoPinitoPino (@cinturanera1) August 24, 2016
Mr Maccarone said he had fears for his friend in Amatrice, a mountain village in neighbouring Lazio, with a population of just a few thousand people. The village was packed with visitors at the peak of the summer season.
"I keep calling him but he is not answering. I hope it is just a bad signal," Mr Maccarone said.
"Half the country needs help ... how do you do that?"
@BoyGeorge we just had an earthquake! central Italy, my heart is still jumping!

— Adrian☮ (@kimonoadrian) August 24, 2016
As dawn broke, residents with shovels and emergency workers with bulldozers were beginning to try to reach people trapped under the debris and clear blocked roads.
The Repubblica newspaper reported that at least one bridge had collapsed, making access for emergency services difficult.
The AGI news agency reported there was "a landslide on one road (and) a bridge is about to collapse on the other one".
Mr Pirozzi said the access roads to the town "are isolated".
"I've issued an appeal to free up the roads," he said.
"Half the village is no more, we have people buried under the rubble. I fear they are dead. We have room for rescue helicopters but the priority is to clear the streets. We are working without lights".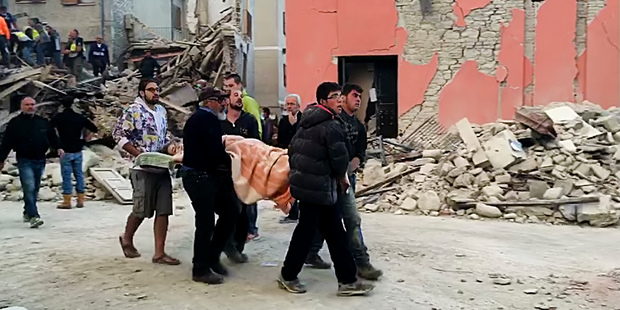 Alessandro Mazzilli, of the Alpine emergency service of Rieti, said: "There are problems in Amatrice, we are heading that way."
"Apparently houses have collapsed now, but I am not there yet so can't confirm," he said.
"The quake has been felt throughout the whole of central Italy - even in the Adriatic Sea."
Social media users have taken to Twitter to post photos of the devastation.
United States Geological Service projections has predicted there will be casualties in towns close to the epicentre. These include Accumoli (less than 1000 residents), Norcia (5000), Maltignano (3000), Amatrice (3000), Cascia (3000) and Cittareale (less than 1000).
USGS's PAGER system, which predicts the impact of earthquakes, has issued a red alert - suggesting significant casualties and damage based on previous quake data.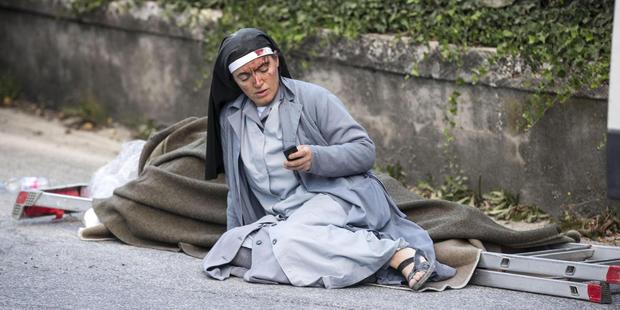 Race to respond
Mr Pirozzi told state-run RAI radio and Sky TG24 that he needs heavy equipment to clear rubble-clogged streets to get to the injured.
Asked if there were any dead he said: "Look there are houses that aren't here anymore. I hope we get some help."
Three helicopters and six vehicles are on their way to the affected region, in addition to rescue efforts by Italy Civil Protection, the Lazio regional government said on their Facebook page.
Rescuers have already pulled several people - survivors and the dead - from the rubble.
Rainews24 channel reported that rescue workers called Amatrice residents' cellphones, and tried to get to those who answered. If there was no answer, rescuers moved on to the next person.
CNN reported that Tommaso della Longa, a spokesman for the Red Cross, said the images coming out of Amatrice are grim.
"The picture we got from our delegate in Amatrice are telling us a terrible story of a small city almost completely destroyed," he said. "The situation is difficult at the moment."
The priority is to find survivors, he said.
"These areas are in central Italy and are in middle of mountains and valleys," he said. "There are small houses in the middle of the valley that are completely alone and they need help. It'll take some time to reach them."
Prime Minister Matteo Renzi's spokesman said on Twitter that the government was in touch with the country's civil protection agency, which said the earthquake was "severe".
Italy's Red Cross is reporting that at least one bridge into the mountainous area is on the point of collapse.
The spokesman for the Italian fire department, Luca Cari, said they had received reports of buildings being damaged, but had no further details.
"It was the worst (quake) of my life" Matteo Berlenga told Reuters after leaving his house near Gubbio in the central Italian region of Umbria when the earthquake struck.
A resident of the Rieti region, which is between Rome and the epicentre of the quake, told the Rainews24 channel that she and most of her neighbours had come out onto the street after feeling "very strong shaking".
Kiwis in Italy react
"I'm in Rome at the moment currently 2km from the Colosseum. I did not feel or even wake to the first one. I woke shortly afterwards but thought it was just the metro which is right under our hotel. Pretty scary stuff. Checked my phone this morning to missed calls and people messaging me asking me if I was alive. Not a nice start to the morning here." - Rory Foster
"Staying in central Rome. Felt sharp jolt around 3.30 this morning local time.
Lasted about 15 seconds. Followed by another milder quake approximately 40 minutes later. Have been to top of hotel but can't see any damage from the 7th floor. Hotel Romanico palace." - Murray Hardisty
"We're staying at a cookery school in Tuscany and woke to feel the bed rocking. Firstly thought it was a dream. It went in for several seconds!" - Jules
Marian Tolich is on holiday in Pesaro, on the Adriatic coast south of Venice.
Despite the location being about 330km away from the quake's epicentre, she was woken up by it.
"We were in bed on the sixth floor of a hotel right ion the beach and we were sound asleep - it was about 3.30 - and there was a bit of a noise and then the whole room started shaking. The bathroom door was banging against the wall."
She said she wondered what was going on.
"It felt like it went on for quite a long time.
"Nothing fell off the walls or the tables. We were thinking 'where should we go? What should we do? ' And then it stopped."
Tolich guessed the quake lasted between 15 and 20 seconds. "It seemed forever."
She went back to sleep and was woken again by another, smaller shake.
When she woke again this morning and turned her phone on there were missed calls and messages from people friends and family checking they were ok, Tolich said.
"We were quite scared - I've never experienced an earthquake before."
Italy prone to national disasters
The Italy earthquake has occurred 1,937 years to the day since Mt Vesuvius erupted in 79AD and destroyed Pompeii and Herculaneum - one of the most catastrophic volcanic eruptions in European history.
Italy sits on two fault lines, making it one of the most seismically active countries in Europe.
A 2009, 6.3-magnitude earthquake in the Aquila region, about 90km south of the latest quake, which was also felt in the Italian capital, left more than 300 dead.
Six scientists and a former government official were sentenced to six years in jail for multiple manslaughter after failing to properly evaluate the danger and providing incorrect advice about the disaster.
The most deadly since the start of the 20th century came in 1908, when an earthquake followed by a tsunami killed an estimated 80,000 people in the southern regions of Reggio Calabria and Sicily.