Panama Papers draw attention to deal by Fifa's new boss as Cameron feels the heat.
Swiss police raided the European soccer body Uefa yesterday to seize information about a contract disclosed in the Panama Papers that was signed by Gianni Infantino, now head of the global football body Fifa.
The impact of the leaked documents from a Panamanian law firm is snowballing, with Iceland facing a political crisis after its Prime Minister, Sigmundur Gunnlaugsson, stepped aside on Wednesday following revelations about his wife's finances.
Iceland's ruling coalition has named Sigurdur Ingi Johannsson - Agriculture and Fisheries Minister and deputy leader of the Progressive Party - as the new PM, with early elections to be held in the northern autumn.
Recently elected Infantino joined a growing list of public figures and political leaders whose financial arrangements have come under scrutiny after the release of the 11.5 million documents, which have caused public outrage over how the rich and powerful can hide money to avoid taxes.
Infantino said he was "dismayed that his integrity was being doubted" by media reports which said the contract he signed several years ago as a Uefa official sold broadcast rights at a low price to a company which sold them on at a far higher price.
Uefa denied that the rights were sold at below the market price.
"Uefa can confirm that ... we received a visit from the office of the Swiss Federal Police acting under a warrant and requesting sight of the contracts between Uefa and Cross Trading/Teleamazonas," Uefa said in a statement.
Infantino said in a Fifa statement that the contract had been "properly conducted" by Uefa.
British Prime Minister David Cameron also faced another day of questions about his finances, because his late father was among the tens of thousands of people named in the documents from law firm Mossack Fonseca, which has denied any wrongdoing.
After having at first described it as a private matter, Cameron's office said on Wednesday that he and his family did not benefit from any such funds at present.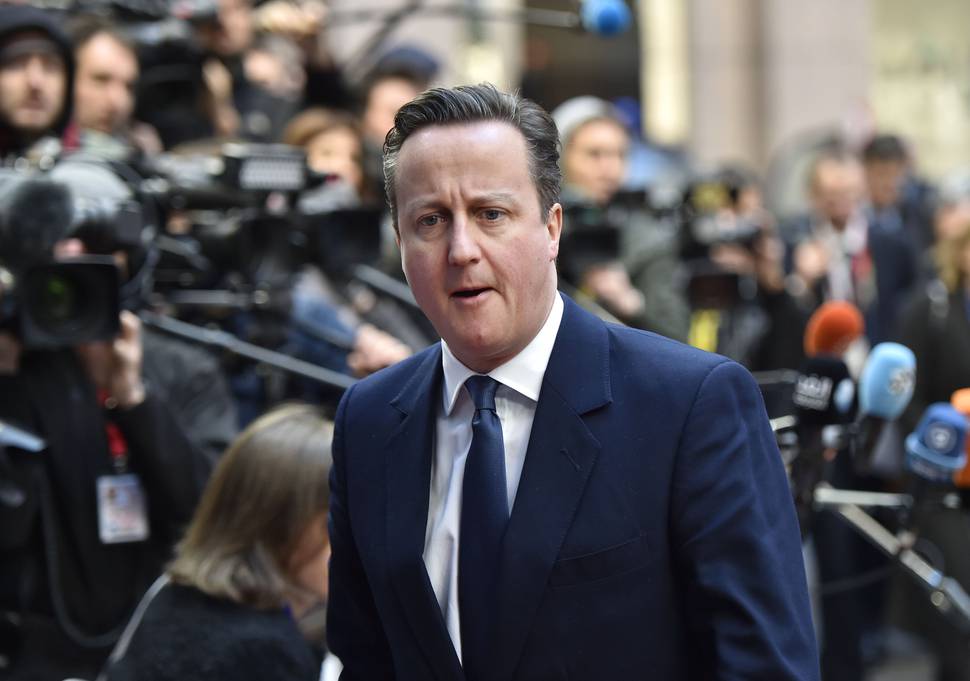 Cameron also said he did not own any shares or have any offshore funds.
But his failure to say whether he or his family would benefit in future only intensified media speculation, with the story splashed across many newspaper front pages.
"There are no offshore funds or trusts which the Prime Minister, Mrs Cameron or their children will benefit from in future," a spokesman for Cameron said on Wednesday.
Among those named in the leaked documents are friends of Russian President Vladimir Putin, relatives of the leaders of China, Britain and Pakistan, and Ukrainian President Petro Poroshenko.
Poroshenko said he set up an offshore trust to separate his business and political interests after he became President and the arrangements were carried out with full transparency.
He said he was not trying to minimise tax payments.
"There does not need to be an investigation," Poroshenko told reporters in Tokyo, when asked about the planned investigation by Ukraine's fiscal services.
Iceland suffered further political fallout from the documents. Gunnlaugsson stepped down after the documents showed his wife owned an offshore company that held millions of dollars worth of debt from failed Icelandic banks.
Gunnlaugsson has said his wife's assets were taxed in Iceland but the opposition has accused him of a conflict of interest because his Government was negotiating deals with claimants on the banks.
Icelanders, already angry with the financial and political elite after the 2008 banking crisis wrecked the economy, have taken to the streets to demonstrate, pelting Parliament with yoghurt and eggs.
Other leading figures and financial institutions responded to the leak with denials of any wrongdoing as prosecutors and regulators began a review of the investigation by the US-based International Consortium of Investigative Journalists (ICIJ) and other media organisations.
New Zealand, Australia, Britain, France, Austria, Sweden and the Netherlands are among nations that have started inquiries.
- Reuters