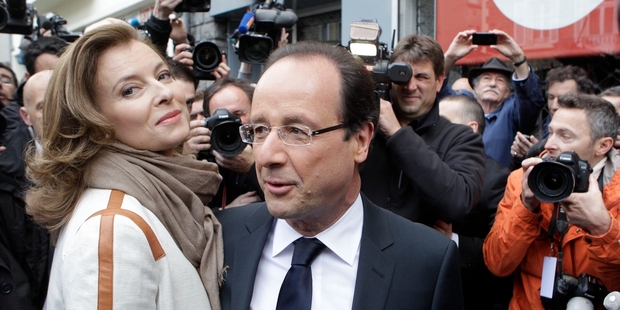 Francois Hollande is a cold, cynical cheat, and a Socialist who "doesn't like the poor", according to a devastating memoir written by a vengeful Valerie Trierweiler, the French President's spurned ex-girlfriend.
Depicted as icy, obsessively ambitious and out of his depth, the President is picked apart in Thank You For This Moment, released today; a kiss-and-tell account of Trierweiler's nine-year relationship with Hollande and her 18 months at the Elysee Palace.
Hollande's aides said he was kept totally in the dark about its release and was appalled at extracts leaked yesterday, including one recounting a desperate fight to stop Trierweiler taking sleeping pills in the presidential bedroom after his affair with Julie Gayet, the actress, hit the headlines.
But perhaps the most damaging passage of the book, cited by Le Monde, is one in which Hollande appears to mock the poor.
"He presents himself as the man who doesn't like the rich. In reality, the president doesn't like the poor," writes Trierweiler, who is from a gritty neighbourhood of Angers, in the Loire Valley. Her father is an invalid, and her mother worked as an ice rink cashier.
"This man, a left-winger, calls them in private 'the toothless ones' and is very pleased with his little joke," she claims.
A friend told Le Parisien that Trierweiler, 49, had initially shelved her plans to write a memoir, but then changed her mind when she "finally realised that he would never come back".
"She thought Julie Gayet was out of the picture, which was never the case. She wreaked revenge, quite simply."
Trierweiler's time as first lady ended unceremoniously in January when Hollande publicly dumped her following disclosures about his secret affair with Gayet, 42. The humiliation was such that Trierweiler, who has three children from an earlier marriage, checked herself into a public hospital for eight days suffering from stress.
Trierweiler also discloses that Hollande proposed to her in September 2012, only to suddenly pull out.
She said the President brazenly lied to her over the Gayet affair. When rumours circulated in March 2013, she asked him: "Swear to me, on my son's life, that it's false and we won't talk about it any more."
"He swears, and dismisses it as 'a piece of nonsense'," she writes.
Days before gossip magazine Closer published the infamous photos of their trysts, he insists there is "nothing" in the speculation. Only later did she realise the extent of the lies. The book also recounts her "hysterical jealousy" of Segolene Royal, Hollande's former partner, the mother of his four children, and his Ecology Minister.
Hollande comes across as cold and boorish at times, at one stage saying "Does it take you a long time to look that beautiful? Yes it does. At the same time, nothing else is asked of you."
But she also claims that since their split, Hollande has bombarded her with text messages, pleading with her to meet up in a bid to win her back as if she "were an election".
"He writes that I mean the world to him, that he can do nothing without me." Telegraph Group Ltd