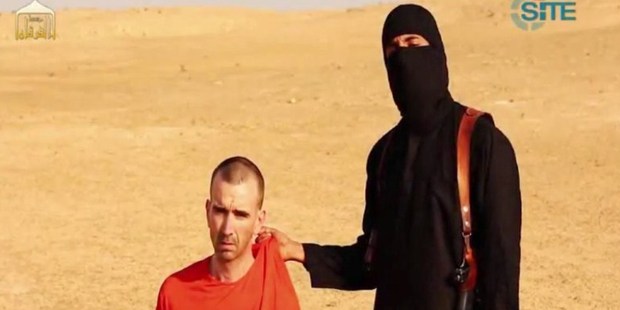 A Briton will be the next hostage murdered by Islamist terrorists, the British extremist known as "Jihadi John" threatened as he beheaded a second American journalist and announced "I'm back".
Isis (Islamic State) carried out its threat to murder Steven Sotloff, the United States citizen who was shown last month in the video of the murder of his fellow American, James Foley.
Just as Sotloff appeared as the next potential victim at the end of the Foley video, the British hostage, wearing a Guantanamo Bay-style jumpsuit, is shown on his knees as the latest video draws to a close.
Video shows apparent beheading of US Journalist

NBC news said he was David Cawthorne Haines, who had worked for a string of aid organisations. An official with Nonviolent Peaceforce, a civilian peacekeeping group, told the network that Haines did security work for them in South Sudan in 2012 and was working for another aid group when he was reported abducted in early 2013 in Syria. Tiffany Easthom, the South Sudan country director for the organisation, said Haines had military experience.
The video will intensify pressure on MI6, Scotland Yard and the FBI to identify the British jihadi, who has a deep voice and a London accent.
He appears in both films and is assumed to be the murderer of Sotloff and Foley. He is thought to be one of more than 500 Britons who have travelled to Iraq and Syria to fight with Islamist terrorist groups.
There were fears the British hostage could already be dead, after sources in the US suggested the Sotloff and Foley murders may have been carried out at the same time.
Video: US 'Sickened' by journalist beheading

Both videos appear to have been filmed in the same location, and unnamed US government sources quoted by the Wall Street Journal said some officials believe Sotloff was killed immediately after Foley, whose death was made public on August 20.
The same source suggested Haines could also have been killed at the same time, with the videos released weeks apart to increase their impact.
Around 20 other Western hostages remain unaccounted for.
In a clear message to British Prime Minister David Cameron, the British terrorist says: "We take this opportunity to warn those governments that enter this evil alliance of America against the Islamic State to back off and leave our people alone."
The killer does not refer to the Briton by name, but his name is shown on screen as a signal of Isis's intent that he is the next victim.
In a horrific carbon copy of the murder of Foley, Sotloff was made to read a statement condemning America's foreign policy in Iraq before his decapitated body is shown on screen.
Cameron said last night: "If verified, this is a despicable and barbaric murder. My thoughts and prayers are with Mr Sotloff's family and friends tonight as they deal with this appalling and tragic situation."
The Briton was abducted in March last year near the Atmeh refugee camp on the Turkish border with the northern Syrian province of Idlib.
Cameron has been regularly briefed on attempts to free the British hostage, and Whitehall sources have told the Daily Telegraph that a failed attempt by US special forces recently to free 40-year-old Foley was also intended to free Haines, among others.
The Foreign Office said the man's family, who live in Scotland, had been informed. Members of his family, including his brother, were on their way to his parents' home to comfort them.
A relation would only say: "We're not allowed to say anything."
Message from 'Jihadi John'
In the latest video, titled A Second Message to America, the jihadi who is nicknamed John by hostages, as one of four British kidnappers known as The Beatles, stands by Sotloff's side, holding a knife in his left hand.
He addresses Barack Obama directly, saying the US President was to blame for Sotloff's beheading because of his "insistence on continuing your bombings ... despite our serious warnings".
Sotloff, a 31-year-old freelance journalist from Florida who was kidnapped last year, says in the video: "I am Steven Joel Sotloff. I'm sure you know exactly who I am by now and why I am appearing before you. And now this time for my message.
"Obama, your foreign policy of intervention in Iraq was supposed to be for the preservation of American lives and interests, so why is it that I am paying the price of your interference with my life? Am I not an American citizen?
"You've spent billions of US taxpayers' dollars and we've lost thousands of our troops in our previous fighting against the Islamic State, so where is the people's interest in reigniting this war?
"Here you are now, Obama, nearing the end of your term, and having achieving none of the above, and deceivingly marching us, the American people, in the blazing fire."
The killer says: "I'm back, Obama, and I'm back because of your arrogant foreign policy towards the Islamic State, because of your insistence on continuing your bombings ... despite our serious warnings.
"Just as your missiles continue to strike our people, our knife will continue to strike the necks of your people."
Sotloff's mother recorded a video after the death of Foley pleading with the terror group for her son's release.
A spokesman for the Sotloff family said: "The family knows of this horrific tragedy and is grieving privately."
Israel confirms Sotloff was a citizen
An Israeli official confirmedthat slain American journalist Steven Sotloff was also an Israeli citizen.
Foreign Ministry spokesman Paul Hirschson wrote on his personal Twitter feed: "Cleared for publication: Steven Satloff was Israel citizen RIP," misspelling the journalist's last name.
There was no further comment from the ministry. Israel's military censor office cleared the information for publication, suggesting Israel had tried to conceal the news to protect Sotloff, 31.
Sotloff's Israeli citizenship did not appear to have influenced his fate.
In Israel, friends and colleagues remembered Sotloff as an adventurous man who was fascinated with the Middle East. His death and connection to Israel made top news in the country.
- Daily Telegraph, AP