Child dies in Paris apartment block blast with five residents feared buried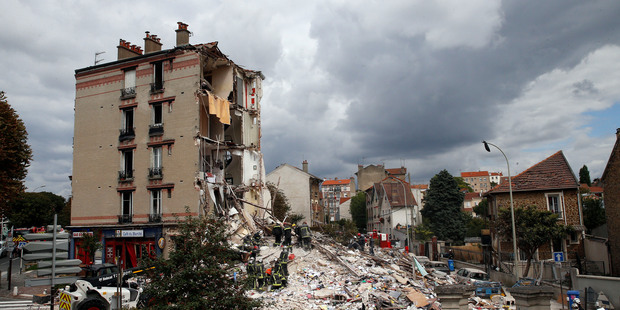 An eight-year-old child and two women were killed and up to five people, including several children, were feared buried after a four-storey apartment block collapsed after an explosion in a Paris suburb.
Police confirmed the bodies of a child and a woman in her 40s were found in the 1950s building in Rosny-sous-Bois.
Another woman, aged 80, who suffered serious injuries, died as firefighters tried to lift her from the rubble.
Last night five people, who lived in the building, had also not yet been accounted for. However, a police spokesman said there was no certainty that all of them were present at the time of the explosion.
Neighbours had dashed to help the residents after the blast yesterday morning. They pulled several people out before police and fire services arrived. Firefighters later rescued 12 people from the block, where about 24 people had lived. Police with sniffer dogs also found two residents alive under debris ? they were freed by firefighters.
The rescue workers carefully removed masonry and timber piece by piece in the hope of finding more survivors. "It will take us between 24 hours and 48 hours to remove all the rubble," said fire service colonel, Bernard Tourneur. "But we have strong hopes of finding other people still living."
Last night police said three other people originally feared to have been buried were not present at the time of the explosion.
A gas leak is believed to have caused the blast, although this has not yet been confirmed. Work was said to have been carried out on the gas main in the street outside the block last week.
The explosion also severely damaged a bar adjoining the apartment block, as well as shops and other properties.
Local officials said the four-storey building was well maintained and had not been the subject of complaints by tenants.
One woman told reporters she feared her son's friend and his family, who had returned from Saint-Malo on the Breton coast on Saturday night, were killed. "They lived on the second floor," she said. "There is no hope for them."
A neighbour, Ghislaine Poletto, 55, who was first on the scene, spoke of her shock at pulling a child out. "He was protected by a mattress and a large block of concrete above his head, she said. "They saved his life. I can't stop thinking of his little arm and leg sticking out of the rubble."
The Interior Minister, Bernard Cazeneuve, later visited the scene of devastation and confirmed the blast "was probably caused by a gas leak".
He added: "The nature of the blast damage strongly suggests that is what happened."
He also confirmed residents from the remaining two-thirds of the building had been given alternative accommodation.
Other officials also said a gas leak was so far the main lead into a possible criminal investigation for manslaughter.
Fire commander Gabriel Plus said: "There had been gas and electricity improvement works going on at this location."
Speaking from La Rochelle at a Socialist party conference, Prime Minister Manuel Valls started his speech by sending out a "message of solidarity" to the victims. The blast happened on the day many French people return from holiday before the new school year starts on Wednesday.
The prefect - who is a senior national government official for the Seine-Saint-Denis d'partement, Philippe Galli, said: "On this weekend above all, it is impossible to be sure how many people were in the building."
- The Independent