Shake that left many injured and dozens of buildings damaged stokes fears of 'big one'.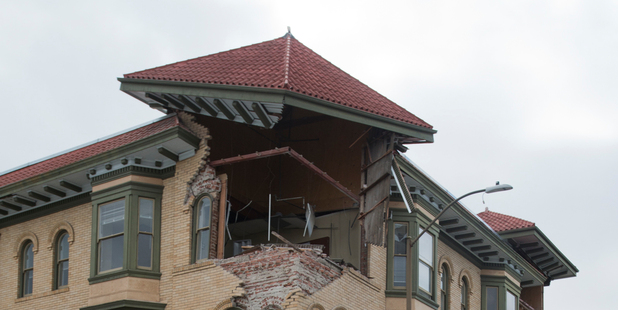 The most powerful earthquake to strike California for 25 years has heightened fears that the state, which lies along a series of seismic faultlines, may soon face a "mega-quake" with a strength exceeding 7.5.
The 6.0 magnitude tremor rocked the San Francisco area at 3.20am local time, damaging buildings and critically injuring three people.
Almost 90 were taken to hospital with cuts and bruises as America's west coast was shocked by the strength of the tremor, and Jerry Brown, the Governor of California, declared a state of emergency for Napa - the area of California's wine country that was hardest hit.
The last such mega-quake - more powerful than the 1906 quake that destroyed much of San Francisco - was in 1680, and geologists warn that it is more than a century overdue. It is predicted to be preceded by a series of minor tremors.
"Usually when people talk about 'The Big One', they're talking about something on the order of a magnitude 9, which of course is tremendously more powerful," said Don Blakeman, a geophysicist with the United States Geological Survey.
The epicentre of the latest quake was 9.5km from Napa, which is home to 77,000 people.
Dazed residents who had run out of their homes in the dark and were too fearful of aftershocks to go back to bed wandered through Napa's historic downtown, where boulder-sized chunks of rubble and broken glass littered the streets.
Dozens of homes and buildings across the Napa Valley were left unsafe to occupy, including an old county courthouse, where a 3m-wide hole exposed a view of the offices inside.
Napa's post office showed deep cracks, with shattered window panes and bricks shaken from the outside walls. Photographs on social media showed a skateboarder using a buckled road as a ramp, and the town's famed wine industry was damaged when dozens of bottles smashed from the shelves of producers.
Watch: 6.0 Earthquake shakes Napa Valley
Queen of the Valley Medical Centre in Napa, where an outdoor triage tent was set up to handle the influx, reported treating 172 people in the emergency room, although hospital officials could not say how many of them were there for bruises and cuts suffered in the quake and how many for more routine injuries and illnesses.
Twelve people were admitted for broken bones, heart attacks and other problems directly related to the earthquake, including an adult in critical condition and a 13-year-old boy.
Napa Fire Department Operations Chief John Callanan said the city had exhausted its own resources trying to extinguish at least six fires after 60 water mains ruptured, as well as transporting injured residents, searching homes and collapsed carports for anyone trapped and responding to 100 reports of leaking gas.
Mark Ghilarducci, director of the California Governor's Office of Emergency Services, said some 90 to 100 homes and buildings were deemed not habitable. Maureen Hurley wrote on Facebook: "Felt like a freight train hit the house. Am in Point Reyes [on the coast] sleeping on a friend's couch. Was nearly tossed off it. I need seat belts, apparently."
And another resident, Debbie DeBello, said that her pet parrot had been terrified. "Side-to-side shaking here in Concord rather than a sharp jolt, lasting about 15 seconds. Possibly would not have awakened except my dog started barking at my parrot in the other room, who had fallen off her perch in fear."
While inspecting the shattered glass at her husband's storefront office in downtown Napa, Chris Malloy described calling for her two children in the dark as the quake rumbled under the family's home, tossing heavy pieces of furniture for several metres.
"It was shaking, and I was crawling on my hands and knees in the dark, looking for them," the 45-year-old woman said, wearing flip flops on feet left bloodied from crawling through broken glass.
College student Eduardo Rivera said the quake knocked him back into his bed as he tried to flee.
- additional reporting AP