US President Barack Obama has ordered a review of the supply of military hardware to US police departments amid concern about the deployment of heavily armed "robo-cop" officers during protests after the shooting dead of a teenager.
America was shocked by the images of protesters in Missouri being confronted by combat-ready officers in body armour, equipped with semi-automatic weapons and sniper's rifles, backed up by armoured vehicles.
The racially charged protests were triggered in the St Louis suburb of Ferguson after the fatal shooting by a white policeman of Michael Brown, an unarmed, African-American 18-year-old.
Mr Obama has now instructed his officials to review the post-9/11 strategy of distributing Pentagon weaponry and equipment such as body armour, mine-resistant trucks, silencers and automatic rifles to police forces across the country.
The president has ordered them to assess whether to continue supplying the material and, if so, whether the police departments are receiving the training to use the equipment appropriately.
The announcement came as Brown's parents were preparing to bury their son at a funeral service that could become the focus for fresh unrest.
"There is a big difference between our military and our local law enforcement and we don't want those lines blurred," Mr Obama said in the aftermath of the shooting. "That would be contrary to our traditions."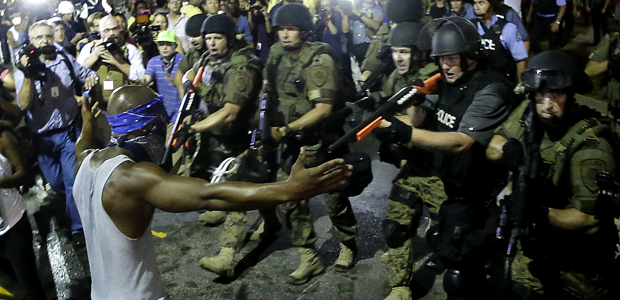 Police arrest a man as they disperse a protest in Ferguson. Photo / AP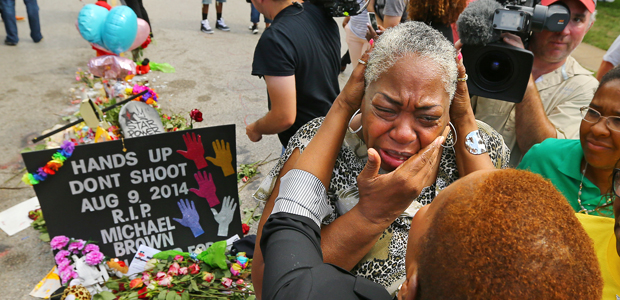 Spiritual teacher Iyanla Vanzant, right, consoles Shirley Scale at the shrine to Michael Brown. Photo / AP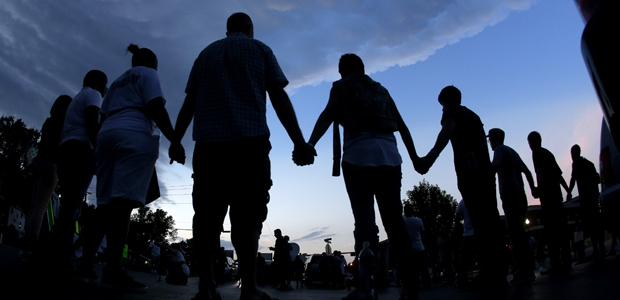 People stand in prayer after marching to protest the shooting of Michael Brown in Ferguson. Photo / AP
The review will be conducted by staff from the White House, Pentagon and Homeland Security and Justice departments - a sign, officials said, about how serious Mr Obama's instructions were.
The federal programmes providing billions of dollars of funding for state and local police departments to purchase military equipment were launched in the wake of the September 2001 terrorist attacks.
The then Bush administration viewed law enforcement departments as the front line of the domestic the war on terror.
Eric Holder, who oversees law enforcement in the US as Mr Obama's attorney general, said that the equipment "flowed to local police forces because they were increasingly being asked to assist in counterterrorism".
But he said "displays of force in response to mostly peaceful demonstrations can be counterproductive", and so "it makes sense to take a look at whether military-style equipment is being acquired for the right purposes and whether there is proper training on when and how to deploy it".
Peter King, a Republican congressman and prominent security hardliner, dismissed that criticism and said he had seen nothing to justify scaling back federal police grants.
He told The New York Times that there was no evidence that giving the police heavy weaponry and equipment had worsened the situation in Ferguson or had led to abuses elsewhere.
Next trending article: Breakthrough offers hope for diabetics