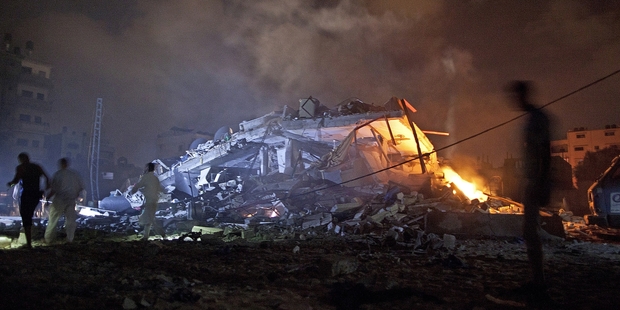 An Israeli air strike hit a house in central Gaza before dawn yesterday, fatally injuring five family members, including two women and two preschoolers.
The raid occurred in Al-Zawayda near the Nusseirat refugee camp.
It hit a family home, witnesses and medics said.
Doctors at the Al-Aqsa Hospital in Deir al-Balah said the five dead all came from the same family - a 28-year-old father, his 26-year-old wife and their two boys aged 3 and 4 years.
The father's 45-year-old aunt was also killed, they said.
The Israeli military said it carried out around 20 air strikes over the Gaza Strip early yesterday, on the same day three rockets or mortar rounds hit southern Israel near the border with Gaza.
Hostilities in the six-week war between Israel and Gaza's Islamist de facto rulers Hamas resumed on Tuesday as Egyptian-brokered truce talks collapsed.
Emergency services say 81 people have died in the Palestinian enclave since then.
On Friday, an Israeli child was killed and seven other people wounded, one of them critically, by mortar and rocket fire from Gaza.
At least 2097 Palestinians have been killed since July 8, 70 per cent of them civilians, according to the United Nations.
There have also been 68 people killed on the Israeli side, all but four of them soldiers.
Meanwhile, Hamas has signed a pledge to back any Palestinian bid to join the International Criminal Court, two senior officials in the group said yesterday. Such a step could expose Israel - as well as Hamas - to war crimes investigations.
Palestinian President Mahmoud Abbas has debated for months whether to join the court, a step that would transform his relations with Israel from tense to openly hostile and could also strain his ties with the United States.
The decision by Hamas to sign a document in support of a court bid removes a major obstacle, though it's not clear if Abbas now will go ahead.
A hesitant Abbas has said he would not make any decision without the written backing of all Palestinian factions. Last month, he obtained such support from all factions in the Palestine Liberation Organisation.
Hamas, which is not a PLO member, has said it would study the idea.
Its decision to support the court option came after weeks of cross-border war with Israel and several failed ceasefire efforts.
- AP, AAP