Obama undeterred as air strikes continue even though jihadists say they will execute more US journalists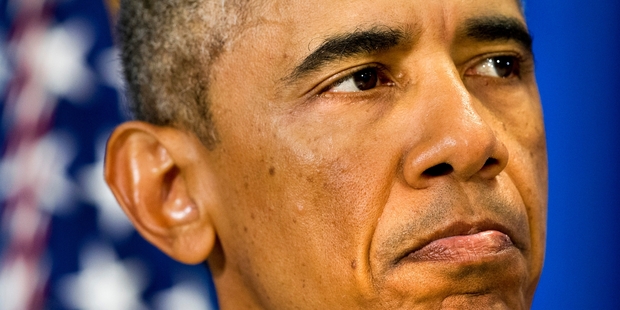 The US has unleashed a new aerial barrage against jihadist positions in northern Iraq in a clear sign that Barack Obama will not be deterred by the beheading this week of an American reporter, James Foley, or by threats of further murders of foreign hostages if the strikes continue.
US officials confirmed that six strikes were carried out near Mosul Dam, which was retaken from Islamic State (Isis) militants this week by a combined Kurdish and Iraqi force. The purpose, the officials said yesterday, was to consolidate the government forces' hold on the vital facility and establish a wide safety perimeter around it. The video of the murder of Foley - which first surfaced on Wednesday - included a chilling narration saying he was being killed in direct response to the US air strikes, which now number 84 since they started on August 8.
The video also warned that further killings would follow if the attacks did not end and specifically identified the captive journalist Steven Sotloff as being the next victim in line.
It is believed that Isis may be holding an additional two US journalists, whose whereabouts and fate are also of urgent concern in Washington.
Details have surfaced of efforts made by the hostage-takers to extract a ransom for the release of Foley.
It was reported yesterday that they had asked for US$132 million ($156.8 million) for Foley's release. US officials, speaking anonymously, said that more than US$100 million was demanded by Isis in email communications with Foley's parents in New Hampshire.
Unlike some European countries, however, the US appears firm in its resolve not to pay ransom to terror groups.
While the return of the US military to Iraq has been met with consternation by most Americans, the horror of Mr Foley's murder will, if anything, now make it easier politically for Obama to sustain the air campaign.
John Allen, a retired Marine general who commanded the Afghanistan war from 2011 to 2013, urged Obama to "move quickly" to pressure Isis's "entire nervous system" to "break it up, and destroy its pieces".
"A comprehensive American and international response now - now - is vital to the destruction of this threat ... The Islamic State is an entity beyond the pale of humanity and it must be eradicated. If we delay now, we will pay later," he wrote on the Defence One website.
There has so far been no indication from Obama that he would countenance such a step.
There have been no voices from Congress calling on Obama to end the strikes, in spite of fears for the life of Sotloff and other reporters.
On the conservative side, Senator John McCain has led those demanding that US action should be much more muscular.
"The strategy should be to launch all-out air attacks in Iraq and Syria to defeat" the Isis fighters, he said.
By contrast, Adam Schiff, a California Democrat and House Intelligence Committee member, warned: "The Administration would be wise to not get sucked in."
France's President Francois Hollande has placed the blame for the crisis on Britain and the US.
He told Le Monde the "international community carries a very grave responsibility" for the rise of Isis because a year ago it refused to take military action against the Syrian regime to punish its use of chemical weapons.
"If, two years ago, we had acted to ensure a transition, we wouldn't have had Islamic State. If, one year ago, the major powers had reacted to the use of chemical weapons, we wouldn't have had this terrible choice between a dictator and a terrorist group."
He disclosed that France supplied weapons to moderate rebels battling Syrian President Bashar al-Assad's regime "a few months ago". He said: "We cannot leave the only Syrians who are preparing a democracy without weapons. On one side, the state of Bashar al-Assad continues to crush and massacre, [on the other] Islamic State, and in the middle, those who were supposed to lay the ground for the future, caught in a pincer movement."
Independent