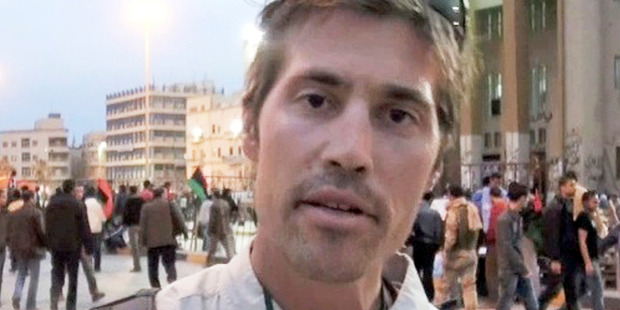 David Cameron has condemned the beheading of American journalist James Foley as "murder without justification" as he said that it is "increasingly likely" that a British jihadist carried out the act.
The Prime Minister, who broke off his holiday amid the escalating crisis, said the killing of the kidnapped American reporter was "brutal and barbaric" - but he insisted the act would not change the Government's approach to tackling the group in Iraq and Syria.
"Let me condemn the barbaric and brutal act that has taken place and let's be clear what this act is - it is an act of murder, and murder without any justification," Mr Cameron said from Downing Street.
Mr Cameron's remarks come as UK intelligence chiefs said they would use voice recognition technology to try and identify the culprit. Claims tonight emerged that the jihadist is the leader of a group of British fighters holding foreign hostages in Syria - and are known to their captors as "The Beatles".
The English-speaking militant was identified to the Guardian by one of his former hostages. He is understood to be one of the main guards of foreign nationals in Raqqa, a stronghold of Islamic State rebels in Syria.
The militant, who appeared on the Foley video, allegedly called himself John and is believed to be from London. He is said to be the main rebel negotiator during talks earlier this year to release 11 Islamic State hostages - who were eventually handed to Turkish officials after ransom demands were met.
The FBI, MI5 and Scotland Yard's counter-terrorism command were all on Wednesday night racing to identify the militant who fronted the propaganda video that showed the brutal murder of Foley, the journalist who had been missing in Syria since 2012.
The Prime Minister - who Government sources revealed had watched a video of the beheading after returning to Downing Street - insisted the murderer had not yet been identified but added: "From what we have seen it looks increasingly likely that it is a British citizen.
"This is deeply shocking. But we know that far too many British citizens have travelled to Iraq and travelled to Syria to take part in extremism and violence. And what we must do is redouble all all our efforts to stop people from going.
"To take away the passports of those contemplating travel, to arrest and prosecute those who take part in this extremism and violence. To take extremist material off the internet and do everything we can to keep our people safe. And that is what this Government will do."
President Obama meanwhile said the Islamic State would "fail" because they only wanted to destroy, and the US would "continue to do what we must do to protect our people".
"One thing we can all agree on is that Isil has no place in the 21st century," the President said.
"We will continue to confront this hateful terrorism and replace it with a sense of hope and stability.
"That's what Jim Foley stood for. A man who lived his work, who courageously told the stories of his fellow human beings and who was liked and loved by friends and family."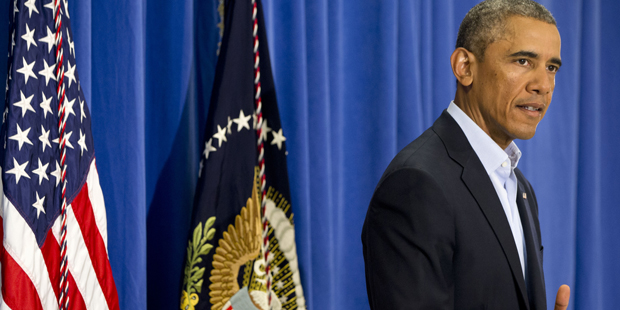 President Barack Obama speaks about the killing of American journalist James Foley by militants with the Islamic State extremist group. Photo / AP
Graphic footage of the execution appeared in a video titled: "A Message to the U.S.", in which an apparently coerced Foley, 40, describes America as his true killers for using airstrikes to assist Kurdish forces in recapturing the Mosul Dam from Islamic State militants.
Scotland Yard said today viewing the film showing James Foley's murder by an Islamic State (IS) extremist may be illegal - but experts believe any prosecutions for watching it would be 'absurd'.
The Met also urged people not to spread the gruesome video over social networks like Twitter and Facebook, warning they could be arrested.
The force said: "The Metropolitan Police Counter Terrorism Command is investigating the contents of the video that was posted online in relation to the alleged murder of James Foley.
"We would like to remind the public that viewing, downloading or disseminating extremist material within the UK may constitute an offence under terrorism legislation."
The Government is considering a fresh anti-terror crackdown in the wake of the growing terror threat.
Mr Cameron said it was not the time for a "knee jerk reaction" and said the police and intelligence agencies already had strong anti-terror powers.
But he added: "We'll always look at new proposals for even tougher laws to deal with terrorism and extremism."
Mr Cameron's remarks came as Government sources revealed the scale of the threat facing Britain from UK-linked terrorists.
A source said 400-500 Britons are currently fighting for ISIS in Syria and Iraq - with hundreds more having returned from the front line and are living back in the UK.
The source also revealed:
* The Government has removed 23 British passports from UK residents amid fears they were preparing to travel to the Middle East to join ISIS;
* Seven people have had their British citizenship removed after traveling abroad to fight;
* Some 46 ISIS videos have been removed from the internet;
* 11 foreign nationals have been deported because they posed a security threat;
* Ministers have issued 'refreshed guidance to the police to arrest people inciting terrorism' - including a crack down leafleting in town centres or flying the ISIS flag;
Government sources later confirmed that the intelligence services were "working hard" to track down the killer on the video. But the source added: "It's bigger than one or two individuals."
Mr Cameron will stay in Downing Street overnight, but has not ruled out returning to Cornwall on holiday tomorrow. A source also confirmed that a recall of Parliament was still not being considered.
Responding to the video this morning, Philip Hammond, the Foreign Secretary, said Islamic State - also known as ISIS or ISIL - was waging war on the West and must be dealt with, before adding that Foley's executioner "appeared to be British" and confirmed that the Government believed the footage to be genuine.
The White House confirmed the video was "authentic".
Calling ISIS an "evil organisation", Mr Hammond said he could send British troops to help train Iraqi government soldiers to help counter the growing threat the Islamist militants pose.
Mr Hammond said the Islamic State video of Mr Foley, who went missing in Syria two years ago, was "an appalling example of the brutality of this organisation".
The Foreign Secretary also confirmed that British intelligence experts would analyse the video to try to establish the identity of the killer.
Video: US trying to verify video of American's killing
They are expected to run the broadcast through voice-recognition software to see if he is somebody already known to intelligence services.
In the video Foley is seen kneeling in a desert-like environment at an unknown location as an Islamic State fighter stands by his side dressed in black and with his face covered.
After both Foley and the militant issue statements, the journalist is killed in a barbaric beheading.
Mr Hammond said the video had not been verified but "all the hallmarks point to it being genuine".
The Foreign Secretary said his reaction to the clip was "horror, absolutely horror at what appears to be a brutal execution". He added: "On the face of it, it appears to be a British person."
"We need to push it back, we need to counter the poisonous ideology that it promotes," he added.
He insisted this would not amount to "Western boots on the ground", but admitted training Iraqi troops was "certainly something that we would consider".
"We could decide to put limited numbers of trainers into Baghdad for example."
Mr Hammond said: "We are very clear that we are utterly opposed to the evil ideology of this organisation - the barbaric cruelty that they have displayed.
"We are opposed to them with every breath in our body and we will continue to oppose this.
"So any kind of threat they make, that if we oppose them they will come after us, frankly we're long passed that point.
"They are waging war on moderate Islamic opinion. They are waging war on the West and we have to deal with them on that basis."
Mr Hammond earlier defended Mr Cameron amid criticism that the Prime Minister remained on holiday in Cornwall. Mr Cameron subsequently came back an hour after his Foreign Secretary spoke.
"We're all entitled to a break. We all operate a lot more effectively for having had one," Mr Hammond said.
"The Prime Minister is only a couple of hundred miles down the road in the UK.
"He's in constant contact with his ministers, with his officials, throughout the day. He is control."
He added: "This Prime Minister does remain pretty focused on what is going on."
Mr Hammond said the Government knew there were "a significant number of British nationals in Syria and Iraq operating with extremist organisations".
Among them is Nasser Muthana - a 20-year-old Cardiff-raised jihadist who appeared in a chilling ISIS recruitment video earlier in the year.
In a disturbing twist he appeared to attend some sort of screening of the video in Syria before it was officially released, telling another militant: "Yo bare ikhwa [brothers] here wana watch it come here lad."
That tweet - sent using the nom de guerre Abul Muthanna - was in response to an invitation he received to watch what was described as the "hilarious" video in a nearby internet cafe.
Mr Hammond said the number of British nationals fighting in Syria is 'one of the reasons why this organisation represents such a direct threat to the UK's national security.
"Many of these people may seek at some point to return to the UK and they would then pose a direct threat to our domestic security."
He acknowledged that "significant numbers" of British nationals had been involved in "terrible crimes" and "probably in the commission of atrocities".
"This is a poison, a cancer, what's going on in Iraq and Syria and it risks spreading to other parts of the international community and affecting us all directly."
He added: "This may come as news to some people but it certainly does not come as news to us.
"We are absolutely aware that there are significant numbers of British nationals involved in terrible crimes, probably in the commission of atrocities, making jihad with IS and other extremist organisations.
"This is something we have been tracking and dealing with for many, many months, I don't think this video changes anything it just heightens awareness of a situation which is very grave and which we have been working on for many months."
The video of the beheading is also being investigated by Washington.
The victim, wearing an orange outfit, makes a statement during the five-minute video titled "A message to America" released by the Islamic State Al-Furqan foundation.
During the speech he said he wanted to call on family, friends and loved ones to "rise up against my real killers, the US government".
He added: "For what will happen to me is only the result of their complacency and criminality".
The statement, during which Foley is seen to pause and take deep breaths, ended with him saying he wished he could see his family again.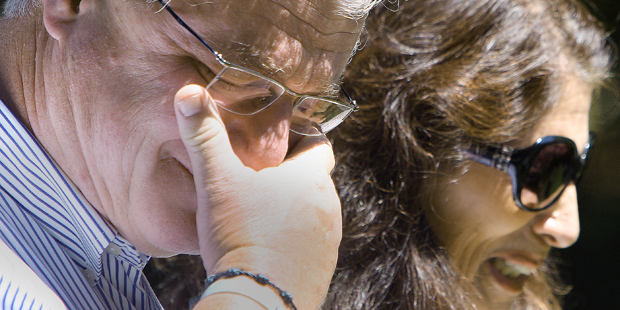 Diane and John Foley talk to reporters after speaking with U.S. President Barack Obama outside their home in Rochester, N.H. Photo / AP
The IS fighter standing next to him is then seen brandishing a knife before accusing America of "aggression towards the Islamic state".
He said: "You have plotted against us and gone far out of your way to find reasons to interfere in our affairs."
In a chilling threat in which he singles out President Barack Obama, he says further actions in Iraq by America "will result in the bloodshed of your people".
The masked, armed and robe-clad man speaks in perfect English in what sounds like a London or southern English accent.
Some experts have since suggested the executioner's accent also has mild North African intonations, which could well mean he moved to Britain at a young age.
After the victim is apparently beheaded, another man, said to be journalist Steven Joel Sotloff, who went missing near the border of Syria and Turkey last year, is shown at the end of the video, with the Islamic State fighter saying his life depends on President Obama's 'next decision'.
Sotloff has been missing since the middle of 2013 and last tweeted on August 3rd, 2013 about his hometown basketball team the Miami Heat.
According to his Twitter account he was in Libya at the time of his disappearance.
Mr Foley's mother Diane released a statement saying the family "have never been prouder" of him, and pleading with the kidnappers not to kill any other hostages.
"We have never been prouder of our son Jim. He gave his life trying to expose the world to the suffering of the Syrian people.
"We implore the kidnappers to spare the lives of the remaining hostages. Like Jim, they are innocents. They have no control over American government policy in Iraq, Syria or anywhere in the world.
"We thank Jim for all the joy he gave us. He was an extraordinary son, brother, journalist and person. Please respect our privacy in the days ahead as we mourn and cherish Jim."
Foley, has been missing since November 2012, after being taken hostage at gunpoint by militants from the group Jabhat al Nusra while reporting from Taftanaz, northern Syria, for the GlobalPost.
Jabhat al Nusra subsequently joined forces with ISIS - which did not exist in anything like its current form when Foley was taken - which explains how he ended up in their hands.
The sickening video was designed to send a clear signal to the U.S. to halt the airstrikes that have destroyed a significant amount of ISIS' military equipment in and around the Mosul Dam, and allowed Kurdish Peshmerga to reclaim the strategically important complex.
This morning U.S. jets were seen in the air above the dam as the Kurdish troops who now control it were drawn into fighting with ISIS fighters who remain in the area, hoping to retake control.
- Daily Mail