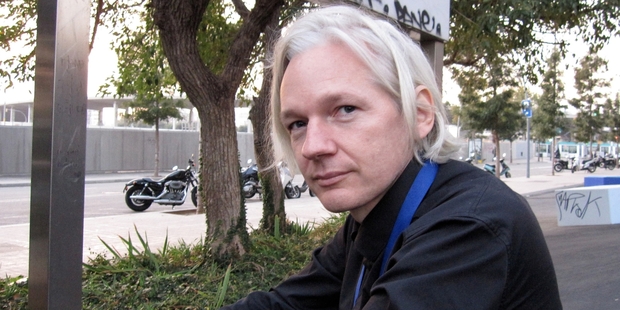 WikiLeaks founder Julian Assange last night argued that it was time he should be allowed to leave the Ecuadorian Embassy in London.
Assange has been holed up in the embassy since he was granted political asylum two years ago.
Speaking at a press conference inside the embassy Assange said: "How can it be in Europe that a person is held, effectively, without charge and kept from their family."
Ecuadorian Foreign Minister Ricardo Patino Aroca said: "Two years is simply too long, it is time to free Julian Assange - it is time for his human rights to be respected."
British newspapers have in last few days been reporting that Assange has illnesses including heart and lung conditions and high blood pressure. Supporters want the fugitive WikiLeaks founder to leave the London embassy building for hospital treatment, but say he will be arrested if he tries to do so.
Assange said last night that he will leave the embassy "soon" but not for reasons that have been reported.
Assange would not elaborate on speculation he will hand himself in to British police or say exactly when he would leave the embassy.
Ecuador granted the 43-year-old Australian asylum after the British Government agreed to extradite him to Sweden, where he faces allegations of sexual assault.
Sky News reported earlier that Ecuadorian journalists who went to the embassy to interview Assange had confirmed he would leave the building.
Police officers, stationed outside the embassy around the clock, are under orders to arrest Assange if he tries to leave. The Ecuadorians have asked for permission to take him to hospital in a diplomatic car but have had no reply.
Supporters say that having been unable to go outside and living in an air-conditioned atmosphere, the Australian anti-secrecy campaigner has developed an irregular heartbeat, a chronic cough and high blood pressure. Lack of sunshine has given him a Vitamin D deficiency that could lead to asthma, diabetes, weak bones and other conditions, WikiLeaks sources claim.
The British government wants to extradite him to Sweden under a European Arrest Warrant issued over sexual assault allegations.
Assange says that if he is sent to Sweden he will be extradited to the United States, where he could face 35 years in jail for publishing on WikiLeaks classified documents related to US activities in Iraq and Afghanistan.
The ex-computer hacker says British authorities have confiscated his passport so he could not get far even if he did escape the embassy. "It's not like I can go into the Australian Consulate to get a replacement. I would want an understanding - formal or informal - that I would be given time to leave the UK before the US puts in an extradition bid. And then I'd go to my children, like any father."
- additional reporting AAP