Multiple smoke canisters fired at Ferguson protesters after dark.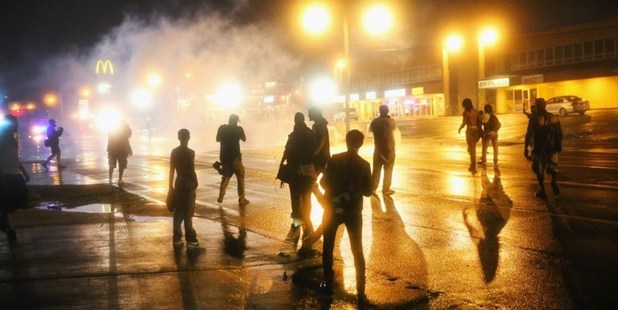 Tear-gas and smoke canisters were fired at defiant protesters last night (NZT) after the Governor of Missouri declared a state of emergency in Ferguson in an effort to end days of unrest following the death of a black teenager killed by a white police officer while walking down the street.
Seven people were arrested as police enforced a midnight-to-5am curfew. As well, a person was shot and critically wounded. Police said they were hunting the shooter.
Missouri State Highway Patrol captain Ron Johnson, who is in charge of security in Ferguson, defended his department's actions, which came after demonstrators defied the curfew.
Read more
*Gov declares emergency, imposes curfew in Ferguson
*US rethinks giving excess military gear to police
He said the strong response was precipitated by two events. People who had broken into a restaurant and taken positions on the roof overlooking approaching police was one strategic concern, and another involved a man who flashed a handgun and appeared in the middle of the street as five armoured vehicles approached the protesters.
Johnson said someone also fired at a patrol car.
Hundreds of other protesters left peacefully before the curfew took effect in Ferguson, where 18-year-old Michael Brown was shot dead on August 9. The shooting has prompted widespread protests, unrest and claims of civil rights violations.
But remaining protesters - chanting "No justice! No curfew!" - refused to leave the area. As the armoured tactical vehicles approached the crowd, officers spoke through a loudspeaker: "You are in violation of a state-imposed curfew. You must disperse immediately. Failure to comply, may result in arrest."
As officers put on gas masks, a chant from the distant crowd emerged: "We have the right to assemble peacefully."
A moment later, police began firing canisters into the crowd.
Jayson Ross, who was leading the protesters towards the police before the canisters were fired, said: "They got guns. We got guns. We are ready."
Emotions had been inflamed further by an account of the shooting of Brown by Emanuel Freeman, a local rapper.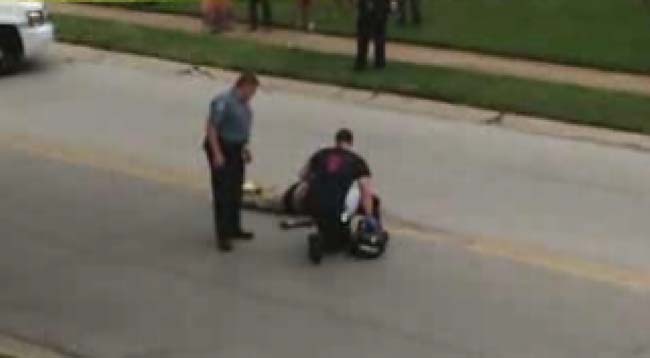 An image from KMOV-TV shows police investigators inspecting the body of Michael Brown.
Using his Twitter label of @Thee Pharoah, he gave a blow-by-blow account. His first tweet said: "I just saw someone die."
He then posted a photo of a man lying face down in the street.
To a friend, he said: "The police just shot someone dead in front of my crib [house] yo."
An angry crowd soon gathered in the street. "Its blood all over the street, n****s protesting. There is police tape all over my building. I am stuck in here omg," he wrote.
TheePharoah then went on to answer questions from other Twitter users, saying that he thought the man was shot seven times -- twice from behind, and then five further shots as the victim turned to face police.
Police have since been widely condemned for using excessive force against the demonstrators. They have also come under fire for claiming Brown was stopped because he was a suspect in a robbery.
On Saturday, police released footage showing Brown and a friend apparently stealing a box of cigars from a store, with Brown pushing a shop assistant into a stand.
Locals accused them of trying to shift attention and of concocting a cover story. Benjamin Crump, a lawyer for the Brown family, said it amounted to character assassination.
A statement from the family said: "There is nothing based on the facts that have been placed before us that can justify the execution-style murder of their child by this police officer as he held his hands up, which is the universal sign of surrender."
Thomas Jackson, the chief of Ferguson police, was then forced to admit that the officer responsible for the shooting had not known Brown was a suspect in the robbery. Instead, he had asked Brown not to walk in the street so a police car could pass.
Earlier, Governor Jay Nixon had declared the state of emergency.
Announcing the curfew, he said that though many protesters were making themselves heard peacefully, the state would not allow looters to endanger the community.
Watch: Protests heat up in Ferguson before curfew
"We must first have and maintain peace. This is a test. The eyes of the world are watching," Nixon said. "We cannot allow the ill will of the few to undermine the good will of the many."
The curfew announcement came after tensions again flared in Ferguson late on Friday night (local time).
Earlier that day, local police identified the officer who shot Brown as Darren Wilson, a six-year veteran who had no complaints against him.
Wilson has been on paid administrative leave since the shooting. The police department has refused to say anything about Wilson's whereabouts.
His neighbours said his family had not been seen for days and were staying with relatives outside the state.
Governor Nixon said the US Department of Justice was widening its civil rights investigation of the shooting.
Johnson, the highway patrol chief, said 40 FBI agents were going door-to-door in the neighbourhood, talking to people who might have seen or have information about the shooting.
The killing has sent shock waves across America, igniting protests in 60 other cities.
- additional reporting AP