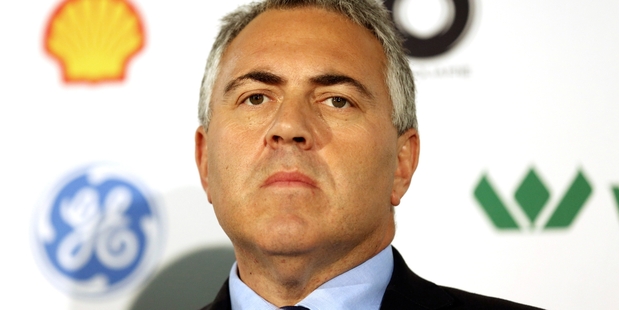 When the federal senator for the Australian Motoring Enthusiast Party, Ricky Muir, sounds like the voice of reason, you know you have a problem.
"You" being the Government, and more particularly, Treasurer Joe Hockey, who once again stands accused of being out of touch with reality after claiming that "the poorest people either don't have cars or actually don't drive very far".
Hockey, in a radio interview, was trying to portray a planned increase in the fuel excise as hitting high-income earners most.
But his comments sparked a storm of protest, including from some of his own colleagues, and reinforced his image as "the cigar-chomping Foghorn Leghorn of Australian politics", as Opposition leader Bill Shorten called him.
Muir was among critics pointing out that people in outer metropolitan suburbs and regional areas were especially vulnerable to fuel cost rises. "We can't all hop on to cows and ride into town," he said.
A former timber worker and father of five, the fledgling politician - one of the cross-benchers being wooed by Hockey as he seeks to get unpopular Budget measures through the Senate - said he had first-hand experience of the impact of such costs on the household budget.
"There's been plenty of times when I've had to think twice about not only filling the car up, but whether I really should be making a certain drive or not," he told the ABC.
Hockey, who was photographed chomping on a big cigar last May after completing his austerity Budget, rejected the criticism as "hysteria".
His office issued figures showing that highest-income households spent three times more on petrol than the lowest, and that the less well-off were less likely to own a car.
But opposition politicians, community groups and some Coalition figures said fuel was bound to consume a higher proportion of the income of lower earners.
The Coalition politicians said people in outer-metropolitan and regional areas generally earned less, had further to travel and were poorly served by public transport.
"You have to have a car whether you are rich or poor," said Liberal National Party senator Ian Macdonald, who has threatened to cross the floor over the issue.
Shorten seized on Hockey's remarks to depict the Treasurer - who grew up on Sydney's affluent north shore and represents Australia's second-richest electorate - as having little understanding of ordinary voters' concerns.
"I think Joe Hockey should apologise to Australians for insulting them by saying you don't need to worry about the tax if you don't drive a car."
Even the usually supportive Murdoch press rounded on the Treasurer, the Daily Telegraph running a photograph of him in a chauffeur-driven, "luxury taxpayer-funded car" and condemning him as "out of touch ... with working mums and dads".
Hockey wants to raise A$2.2 billion ($2.4 billion) by index-linking the fuel excise, which was frozen 13 years ago.