The economy in the Gaza Strip was broken even before the current conflict. Kate Shuttleworth visited Gaza just before the latest hostilities to discover the challenges faced by budding businesswomen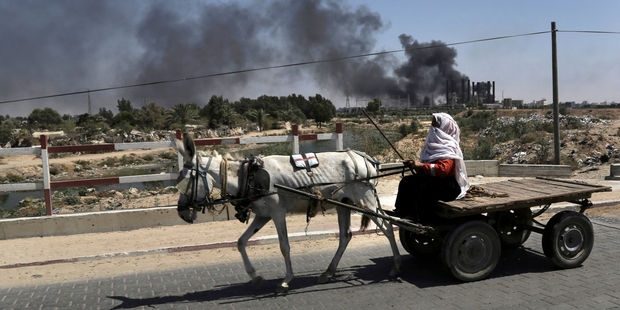 Wearing a bright hijab, black blazer and long denim skirt, Mariam Abultewi sat in a taxi she had just ordered using Wasselni, a taxi-ordering and carpooling app she launched in Gaza four months ago.
Abultewi, 25, is the first woman to have a start-up funded in Gaza, where more women like her are beginning to start tech businesses they hope will generate incomes for them and their families in this cash-strapped society.
For the most part, the women are young - some as young as Sofiya Mosalem, 16, whom Abultewi was mentoring during the fourth annual Gaza Start-up Weekend held last month.
In the time since, their world has turned upside down. Life and hopes for the future hang in the balance as Mosalem and Abultewi are now caught up in a conflict they feel they have little to do with.
A ground invasion, air and naval strikes in the Gaza Strip have left more than 1230 Palestinians dead in just over three weeks.
The destruction of homes and infrastructure makes normal life impossible. After air strikes yesterday, people in the territory have been cut off from power and water.
Both women post on Facebook about their fear of them or their loved ones being killed. Their focus has shifted to survival and their ideas, goals and aspirations have been forced to be placed aside.
Even in normal times being a female entrepreneur in Gaza isn't easy, Abultewi said. Initially her father wasn't happy about the plan, believing it wouldn't lead to a job or income. And when she pitched her idea at Gaza's first start-up weekend in 2011, it was rejected. "I only got one vote, and I voted for myself," she said. "I wanted to leave the event." However, she returned in 2012 and won with the same idea that had been dismissed a year earlier.
When she was asked to deliver a pitch for Wasselni in Egypt and Jordan, and Israel granted her permission to travel, she asked for her father's permission. "Suddenly the borders were open, and I was told I had to leave a week in advance, and I told my father I would have a business trip next week. He said, 'OK, I will tell you yes or no tomorrow'. He didn't say anything, but he let me go," Abultewi said. "That day I made one of my dreams come true - to travel alone."
She eventually secured seed funding from Palinno, a Palestinian mentorship programme. Since the launch of Wasselni, a thousand users have created profiles, and 120 rides have been booked.
Even her father has come around to her way of thinking. He's working on his own start-up idea incorporating his furniture-making skills and now encourages Abultewi to involve her four sisters and three brothers in her work.
Local and international investors arrived at the office of Gaza Sky Geeks, a local startup accelerator, a day before Gaza Start-up Weekend. Tom Sperry, an investor and judge who runs Rogue Venture Partners, was among them. He said a major barrier for Gazan start-ups is that US investors are not legally allowed to invest in Gaza because of the Government's position that Hamas is a terrorist organisation. "I believe that it should be done locally," he said. "People should come here and help train and mentor the process, but all the knowledge transfer has to happen in Gaza." Both the Bank of Palestine and the Palestine Islamic Bank committed to invest in Gazan start-ups ahead of this year's conference.
Iliana Montauk, director of Gaza Sky Geeks, said start-ups supported by the organisation were not registered in Gaza to avoid problems with the US stance. "When Oasis500 invested in our start-ups, they registered those start-ups in Jordan," she explained.
Holding events like Gaza Start-up Weekend can be unpredictable. A judge from Ramallah was refused entry to Gaza by Israel, and two judges and five mentors were forced to leave two days early. And after Israel alleged that Hamas kidnapped three young Israeli settlers and launched initial air strikes on targets in Gaza, Mercy Corps, a partner in Gaza Start-up Weekend, pulled its international guests out of the region. Hamas fighters took to the streets during the weekend for the funeral of five members believed to have died in an explosion in underground tunnels in Gaza City.
Abultewi lives next to the Nuseirat refugee camp, known to be a Hamas stronghold. Residents face harsh living conditions throughout the year.
In addition to the political and economic challenges, women who aspire to be tech entrepreneurs must also navigate family pressures and expectations.
There are no conclusive figures on women's start-up involvement in Gaza, but a recent survey by Wamda, a website and investment fund for entrepreneurs in the Middle East and North Africa, showed 23 per cent of the nearly 1000 founders in the sample were women, 38 per cent of companies had at least one female founder and 13 per cent had female-only founding teams.
Two months ago Mosalam had no idea what a start-up was. Now she has a website and a fully conceived model. Born in Ukraine to a Palestinian father and a Ukrainian mother - both doctors - Mosalam and her family moved to Gaza when she was 8. She spoke little Arabic then. Now she's fluent in four languages.
"Some people see me as a geek. I am actually not. My results are often around 97.5 per cent, and I am first in my class, but I am not the type that studies a lot," she said. "I want to go to Harvard. My friends think I am crazy. I know it's really tough, but I want to do it."
Her mentorship with Abultewi is part of the Intalqi mentor programme, with funding from Google directed through Mercy Corps to Gaza Sky Geeks. The goal is to increase the number of women who successfully found a Gazan start-up. Gaza has come under the umbrella of Google's initiative #40Forward, with $1.1 million allocated to rethink the gap between men's and women's involvement in the start-up community.
Mosalam's website, Boom Baby Boom, is aimed at Arab mothers and mums-to-be living in the Middle East and North Africa. She communicates her pitch smoothly with a rundown of how mothers can access information, from pregnancy through infancy and up to adolescence.
Boom Baby Boom seeks to create networks among mothers and professionals and also allow mothers to document key moments in their children's lives through the site.
Mosalam said her parents are a bit sceptical about her business plan. "My family says I can study whatever I want, but I think they are worried about me because I am a young teenager," she said.
Mosalam's Boom Baby Boom site was selected as one of 25 for development over the start-up weekend.
Of the 140 participants at the weekend, 60 were women. They'd invested a lot of energy and hope into winning the judges' approval.
Mosalem's hopes were dashed when a family led by a 26-year-old woman, Hala Eid Naji, won. Their design app, Lilac, shows you how much furniture you can buy to furnish a room within a particular budget.
With the weekend over, Mosalam returned late at night to climb the stairs to her family's apartment in downtown Gaza. She used a flashlight app on her phone to light the way. The power was scheduled to go back on at 10.30pm, but it hadn't.
She told her mother Olena that she won $460 but didn't come in first. They were excited. Her younger sister Maria, a toddler, joined them on Mosalam's bed. "I hope for Sofiya that she will be happy and have an uncomplicated life," her mother said.
Shattered economy
40,000
Public workers are employed by Hamas in Gaza. An inability to pay employees was among the pressures that made Hamas seek a pact with Fatah in May.
1
Billion US dollars a year - what the industry of smuggled goods was once worth. Egypt has destroyed tunnels linking Gaza to the Sinai Peninsula.
6
Nautical miles is the permitted fishing zone, sometimes reduced to three. Catches are under 50% of what they were about 10 years ago.
40%
Unemployment in Gaza.
- Financial Times, Vox