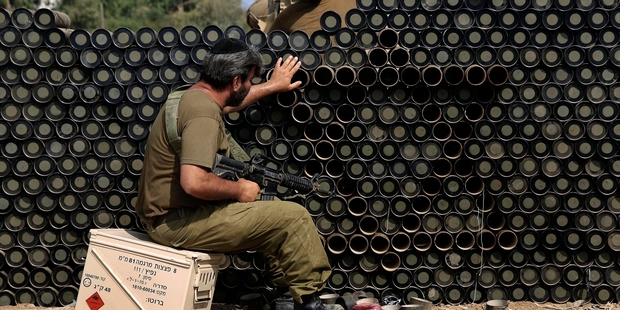 Israeli aircraft, tanks and gunboats pounded symbols of Hamas control in Gaza City in the heaviest night of bombardment in three weeks of fighting.
The strikes hit the home of the top Hamas leader in Gaza, Ismail Haniyeh, as well as government offices and the headquarters of the Hamas satellite TV station. Haniyeh was not hurt.
The escalation occurred as Benjamin Netanyahu bluntly rebuffed international pressure for a ceasefire and instead promised to extend Israel's three-week offensive against Gaza's Hamas rulers into a lengthy campaign that would bring more difficult days.
The Israeli Prime Minister said the military campaign in Gaza would not end until a network of tunnels Israel says have been dug to launch attacks against its citizens had been destroyed.
His unyielding stance came after yet another attempted truce collapsed amid renewed bloodshed that saw the deaths of at least eight Palestinian children and 10 Israeli soldiers.
"We must be prepared for a lengthy campaign," Netanyahu said in a nationwide television broadcast. "Israeli citizens cannot live with the threat from rockets and from death tunnels - death from above and from below. We will not end this operation without neutralising the tunnels whose sole purpose is killing our citizens."
He stopped short of pledging to unseat Hamas from power in Gaza - a goal supported by about 69 per cent of Israeli voters, according to one poll.
But the promise of a protracted offensive means the current campaign will almost certainly surpass the length of the 2008-9 Operation Cast Lead, which lasted three weeks and exposed Israel to fierce international criticism.
It also raises the prospect of an even greater number of dead on both sides if Israeli forces attempt to penetrate deeper into Gaza and away from the border areas where their ground offensive has been concentrated.
As he spoke, the military sent messages to thousands of Palestinians in Shejaiya, Zeitun, Jabaliya, Beit Lahiya and Beit Hanun warning them to evacuate their homes.
United Nations refugee agencies said shelter facilities were already stretched to breaking point. Some 170,000 - or 10 per cent of Gaza's population - have already sought refuge in UN shelters after being displaced from their homes by the conflict.
Shortly afterwards, the skies over Gaza lit up with flashes as the army began a wave of air strikes and heavy shelling that left 26 Palestinians dead, reporters and medics said.
Israel had stated five of its soldiers were killed yesterday, but updated that to 10, saying five of the soldiers died in clashes with a Palestinian commando who had tried to reach Israel through a tunnel at Nahal Oz.
Eight rockets were also fired at Israel, with two hitting the ground near Rishon LeZion, 10km south of Tel Aviv.
- AP, AFP