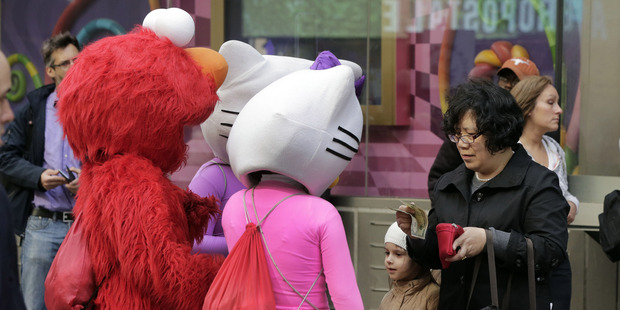 First Elmo from Sesame Street yelled anti-Semitic slurs at children. Then Woody from Toy Story allegedly groped two young women.
Now, as New York City authorities consider legislation to regulate costumed characters in Times Square, a man dressed as Spider-Man has been charged with assaulting an officer and resisting arrest after he allegedly punched a policeman.
Junior Bishop, 25, is one of the many so-called street performers who pose for photos at the famous Manhattan intersection in return for tips from tourists. On Sunday, said AP, a police officer approached the Spider-Man impersonator as he demanded a woman pay him more than the US$1 she was offering for a snap.
When Bishop told the officer to "mind your own f***ing business" and declined to produce any ID, the officer tried to arrest him. The wannabe web-slinger hit the officer and made a break for it, but was detained by other NYPD officers in the square.
The incident comes a week after New York City Police Commissioner William Bratton welcomed the city council's efforts to deal with Times Square's "Elmo issues". A bill is being considered that would call for licences and background checks.
Tim Tompkins, president of the Times Square Alliance, said: "Our feeling is that there's honest folks out there trying to make a living, but there's also folks there trying to take advantage of people."
Misfits and eccentrics
*Dan Sandler, 51, an Elmo impersonator in 2012 pleaded guilty to disorderly conduct after he was caught on camera delivering an anti-Semitic rant in costume. In June last year, Sandler was jailed for a year for attempting to extort US$2 million ($2.3 million) from the Girl Scouts.
*In December 2012, a Super Mario was arrested for groping a 58-year-old woman.
*Last year, a Cookie Monster was charged with endangering the welfare of a child whose mother had declined to tip.
*A Spider-Man, 36-year-old Phillip Williams, was recently convicted of harassment and fined US$370 for a February 2013 incident in which he punched a woman who had refused to pay him.
*This year, a Woody from Toy Story and a Spider-Man have been charged with "forcible touching".
*Last month, a man dressed as the Statue of Liberty was arrested for brawling with another man, also dressed as the Statue of Liberty, in a turf war.
- Independent