Israeli bombs and shells pound residential areas, leaving the people of Beit Hanoun distraught and desolate.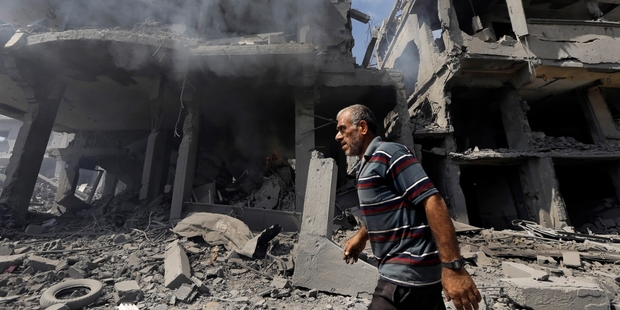 In the dangerous streets around the hospital in Beit Hanoun, the buildings were, by and large, still standing at the start of the weekend. By early yesterday, after a day of intense Israeli bombing and shellfire, the hospital in the northern Gaza town was standing in a sea of rubble, its walls pockmarked with gunfire and torn by shrapnel.
The skyline, until so recently regular and neat, had been transformed into something torn and ragged. The tops of a pair of minarets had been blown off, and the graves in a cemetery smashed to pieces. Houses, offices, apartment blocks and shops were collapsed or collapsing.
The bombs that hit these streets in the time between two visits were visible, and sometimes audible, across the city as huge explosions sent up eruptions of grey smoke.
What happened here in Beit Hanoun, and in other neighbourhoods of Gaza hardest hit by the Israeli assault, will inevitably demand an explanation: whether the extremity of violence unleashed in these residential areas in recent days was proportionate, or if the destruction amounts to a war crime.
Those are questions for the days ahead. Yesterday, however, in the midst of a humanitarian ceasefire, the concerns were more immediate ones, as thousands of Palestinian residents flocked back to their ruined neighbourhoods to see what remained.
As they came on foot and in cars, they were accompanied by fire engines, bulldozers and ambulances of the Red Crescent, whose crews had recovered 147 bodies, many of them partly decomposed, buried under the rubble of Gaza's most damaged neighbourhoods. Medical officials said yesterday that the death toll among Palestinians had reached 1047.
Israel has lost 43 soldiers and two civilians, and a Thai worker has been killed.
If evidence were needed of the failure of diplomacy to end this war, the truce that allowed them to return safely for the first time in days was the only apparent outcome from the high-level mediation mission by US Secretary of State John Kerry and UN chief Ban Ki Moon over the past week.
In some places whole blocks had been flattened, dozens of buildings at a time reduced to a moonscape from which the smell of death at times wafted.
We came across Mohammad Shaweish at the entrance to Beit Hanoun, sitting on part of his suite of cane furniture in a pink ground-floor room that had been ripped open to the street, an electricity pylon lying black and smouldering outside where it had been felled. His family occupied four homes on this corner, all gutted by the air strike that ripped off the outside walls. "We escaped a week ago. We came back at just after eight when the truce started. We took refuge in one of the UN schools," he said as he climbed into the house of one of his relatives to retrieve pots and pans from the kitchen.
"My house, my house," said another man, hitting his head with his hand. Nothing, it seems, had escaped the flying pieces of white-hot metal thrown out by the bombs - not electricity cables, or cars left behind, not windows or doors.
Where Israeli tanks and bulldozers have been there are sandy roads pushed through gardens, parks and farmland, banks of dirt thrown up from where the tanks fired.
Near the hospital a man leads a horse out of the ruins, a long streak of blood staining its hindquarters. It is hard to imagine that anyone who did not flee could have survived the attack, but a few did.
"We lived through a night of horror. The shelling was all around our house," says Hanan al-Zaanin, standing with four of her children outside their home.
Nazmi Khamees Al-Khalez, 58
He came back yesterday and discovered that his home in Shejaiya was severely damaged. Then he walked around the corner to the food warehouse where he has worked for 38 years, only to find this building was also in ruins. The roof was partly collapsed, the fridges destroyed and scorched plastic milk bottles littered the floor. "My house has been damaged, my brother's house has been ruined - and here the company where I have worked has been destroyed too. Sure, we have all lost our jobs now. Everything is destroyed." His only consolation is that his four sons and four daughters, aged in their 20s, are alive and unharmed. "I evacuated them all on the day the ground invasion began. They are all safe. What I have lost can be replaced."
- Telegraph Group Ltd