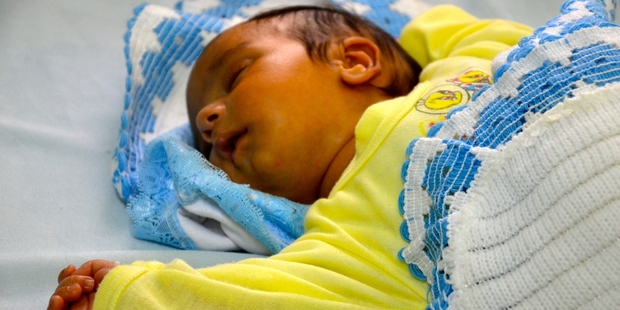 The foyer of Al-Makassed hospital in east Jerusalem is crowded with people, a group of men are asleep on mattresses on the floor resting after Friday prayer and escaping the hot sun during the day-time Ramadan fasting period.
A tiny baby with a slightly yellow complexion, just 21 days old, is asleep, wrapped peacefully. As he breathes his tiny frame contorts and his heartbeat moves his chest in an exaggerated way.
Abdel Rahman Bakr has been in Israel for just four days and is unaware of the attention his surname has garnered internationally after his four relatives were killed in Gaza on July 16.
Baby Abdel has a congenital heart defect - his pulmonary valve is not properly formed, preventing blood flow from his heart to his lungs. He is one of 11 children.
His brother, Mohammed Ramez Bakr, 9, was killed in an Israeli shelling last week. A shell or missile hit the small sea wall of Gaza City's harbour sending Mohammed and his three cousins running for safety along the beach.
He died alongside his cousins - all children of fishermen and refugees - Ahed Bakr, 10, Zakaria Bakr,10 and Mohammed Bakr,11, when a second shell or missile hit the beach.
Abdel Bakr's entry into Israel, facilitated by Palestinian District Co-ordination Office and the International Committee of the Red Cross, was only approved four days after his brother died, but his mother didn't have the right paperwork, so he entered Israel with his aunt Taghrid Bakr, 35.
Taghrid had to leave behind nine of her own children, including her 13-year-old son Hamed who had been on the beach the same day his cousins died and was injured in the chest.
Doctors will decide in the next day or so if baby Bakr will have open-heart surgery.
Abdel and his aunt Taghrid share a hospital room with Nehad Abu Marahil and her injured 6-year-old son Khaled.
There is a constant stream of local Palestinian visitors to the hospital room, bringing the women clothes, toys and financial donations.
The reactions from visitors vary from tears to upbeat warm comments encouraging them to reach full health again.
Khaled was found by his family buried under the rubble of his uncle's house in the southern part of Gaza, Zeitoun. He had internal bleeding on his brain after being hit by a piece of metal from their apartment building.
On Thursday when the Herald on Sunday first visited the families from Gaza, Khaled had just woken up from his coma and it was unclear if he was able to hear or see.
Yesterday his eyes opened wider by the hour.
Just after Khaled wakes a distraught mother from Beit Hanoun arrives, Azhar. Just down the corridor her daughter Ala is in intensive care, after being hit directly by a missile.
Azhar alternates between the company of the women in the room and the intensive care ward.
"She was playing in the streets while I was at the butcher - we were nowhere near any resistance fighters," she said.