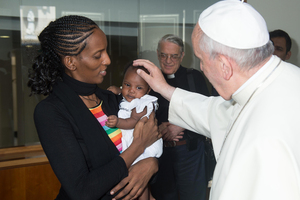 A Sudanese Christian woman spared a death sentence for apostasy after an international outcry, met Pope Francis in the Vatican today.
Meriam Yahia Ibrahim Ishag, 27, appeared to beam with relief as she stepped off a plane at Rome's Ciampino airport yesterday morning.
She was greeted by Italy's Prime Minister, Matteo Renzi, who said: "Today is a day of celebration." Lapo Pistelli, the Deputy Foreign Minister, who accompanied Ms Ibrahim and her family on the flight to Rome, tweeted a photo of the young doctor aboard the plane as she cradled the infant daughter she gave birth to in a Khartoum prison.
Upon her arrival Amnesty International, which led the campaign to free her tweeted: "Safe at last. #MeriamIbrahim and her family have left #Sudan and have landed in Rome".
But Ms Ibrahim's first port of call this morning underlined the religious symbolism as well as the human story. The young Christian went straight from the airport to meet the Pontiff in his Santa Marta guest house "in a climate of great tranquillity", according to the Vatican spokesman, Father Federico Lombardi.
"The Pope wanted this to be a sign of his closeness to all the faithful who suffer on account of their faith and the practising of their faith," said Father Lombardi. "It's a gesture that should be seen as more than a simple meeting and instead become a symbol." The Vatican characterised the meeting as "very affectionate".
Mr Pistelli said that the family was in good health and would stay in Italy for a few days before departing for the United States to join the rest of the family. "Meriam will be the guest of the Government for a couple of days, a time to recover," he said.
Ms Ibrahim's plight hit the headlines in May, when a Sudanese court sentenced the heavily pregnant doctor to death by hanging, prompting outrage around the world.
The judges found her guilty under Sharia law of apostasy - abandoning her Muslim faith - even though she was raised a Christian by her mother. Her father was Muslim but deserted the family.
The court also sentenced her to 100 lashes as it considered her marriage to Daniel Wani, a Christian from South Sudan who has US nationality, to be an act of adultery. The court was citing the extreme form of Sharia law that has been in force in Sudan since 1983.
Days after her conviction, Ms Ibrahim gave birth to her second child in prison, after she refused to renounce her Christian faith during a four-day "grace period". Following huge pressure from governments and campaigning groups, authorities in Khartoum overturned her conviction in June, but she was immediately rearrested while trying to flee Sudan using what prosecutors claimed were forged documents.
Two days later, Ms Ibrahim was again released from prison and she and her family sought refuge in the US embassy.
Despite the insistence of the Sudanese government that the case was "a legal issue and not a religious or a political one" the weight of international opprobrium appeared to have forced the authorities to act swiftly.
- UK Independent