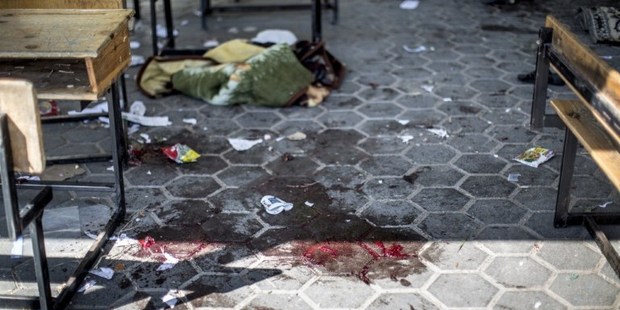 At least 15 Palestinians have been killed after Israeli tanks shelled a UN-run school in Gaza, health officials have said.
Ashraf al-Qidra, a spokesperson for the Gaza Health Ministry, said that another 200 people were wounded in the attack on a compound offering shelter to those who had already fled the fighting elsewhere.

While the Israeli Defence Forces (IDF) had no immediate comment on the incident, news agency photographers reported seeing pools of blood on the ground in the courtyard of the school near the apparent impact mark of a shell.
Israeli Radio, without citing a source, said that most of those killed at the UN compound were children.
It comes after the UN's humanitarian chief drew attention to the "major concern" of child fatalities in the conflict, which has seen one child killed every hour over the past three days.
On Tuesday, a spokesperson for the UN's Office for the Coordination of Humanitarian Affairs (OCHA) said: "There is literally no safe place for civilians [in Gaza]."
Hundreds of Palestinians had been inside the school in Beit Hanoun, struck today in the fourth such incident since the Israeli military offensive began on 8 July.
The director of a local hospital said various medical centres around Beit Hanoun in the coastal enclave were receiving the wounded.
"Such a massacre requires more than one hospital to deal with it," said Ayman Hamdan, director of the Beit Hanoun hospital.
Earlier today Valerie Amos, the UN Under-Secretary-General for humanitarian affairs, said the "dire" situation in Gaza required an immediate truce so that aid could get to those worst-affected.
Baroness Amos said: "People are sheltering in UN schools which as a result cannot be used for education. They are running out of food, and water is also a serious concern.
"But the majority of those killed in Gaza are women, children and men who have nothing to do with the fighting. That we have had children, so many children killed as a result of the violence in the last few days is a terrible, terrible situation."
Gaza's emergency services said 15 people had been killed and more than 200 injured in the school strike, sending the Palestinian death toll from 17 days of fighting to 777.
US tries secure regional efforts to end bloodshed
Meanwhile in Cairo, US Secretary of State John Kerry sought to further regional efforts to broker an end to the bloodshed, reaching out to Turkey and Qatar, both allies of Hamas.
The US diplomat is seeking to garner support for an Egyptian-drafted proposal, with an official saying he had spoken to his counterparts in Doha and Ankara in the hope they would use their influence to encourage Hamas to accept a cease fire plan.
Hamas has so far refused all cease fire efforts, with its exiled leader Khaled Meshaal vowing late on Wednesday there would be no end to the fighting without an end to Israel's eight-year blockade on Gaza.
Meanwhile, a Jordanian helicopter flew Palestinian President Mahmoud Abbas from Ramallah to Amman for urgent talks with Jordan's King Abdullah II, the presidency said.
Yesterday's death toll: 82
There was no let-up to the violence in Gaza, however, with most of Thursday's 82 victims killed in and around Khuzaa, a flashpoint area east of Khan Yunis which has been the site of intensive fighting since Tuesday.
Gaza's health ministry issued a call for international protection for civilians in the area, with the Red Cross saying anyone leaving home was being targeted by Israeli fire.
On Wednesday, the Red Cross and Palestinian ambulances managed to evacuate 150 people from the area following negotiations with both sides, and another convoy of 10 ambulances pulled out another eight bodies and 92 wounded on Thursday, the ICRC said.
But the biggest single strike was at the school in the north, where the UN agency for Palestinian refugees (UNRWA) said it had been trying to coordinate with the army over the evacuation of civilians, without success.
The Israeli army has pledged to open an investigation.
- UK Independent, AFP