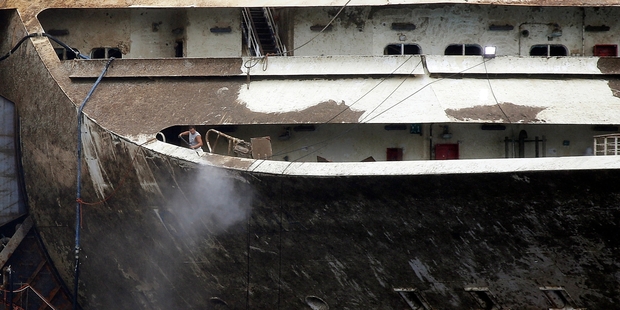 Sir Michael Caine and Julie Christie are among celebrities who have signed a petition calling for giant cruise ships to be banned from Venice.
Concern over the threats posed by the towering liners was heightened in January 2012 when the 115,000-tonne Costa Concordia ran aground on Giglio, off the Tuscan coast, leading to a chaotic evacuation that claimed the lives of 32 passengers and crew. The ship was due to be towed away today from the island to the port of Genoa, where it will be scrapped.
Sixty-three film stars, royalty and luminaries of the art world have signed the petition, which calls for the liners to be prevented from navigating close to St Mark's Square.
They have also called for the ships, some of which carry up to 5000 passengers and crew, to be banned from sailing along the Guidecca Canal, which runs just to the south of the World Heritage-listed city.
The petition signatories include Cate Blanchett, British architect Norman Foster, Calvin Klein, Princess Firyal of Jordan, Jane Fonda, Michael Douglas and Don Johnson. All described themselves as admirers of Venice. Christie made Don't Look Now in the city in 1973.
The petition, organised by an international association calling for greater protection for Venice, has been sent to Matteo Renzi, Italy's Prime Minister, and Dario Franceschini, the Heritage Minister.
"For more than 13 centuries Venice has survived flooding, disease and war," the petition reads. "But now, in a period of peace, the Queen of the Adriatic, listed by Unesco as a World Heritage site, risks being overwhelmed by these enormous cruise ships, which enter the lagoon on a daily basis, indifferent to the dangers that they bring."
The debate over whether to allow the ships to pass through the lagoon on their way to the international passenger terminal at the western end of the island has raged for years.
Last year the Government proposed banning liners of more than 96,000 tonnes but the decree was overturned by a regional tribunal.
The court, in the Veneto region, ruled that alternative routes for the ships to reach the terminal had not been agreed and that the risks posed by the vessels had not been proved.
The decision was a victory for the cruise ship industry. More than 600 cruise ships dock in Venice annually and the industry says they provide much-needed jobs and revenue.