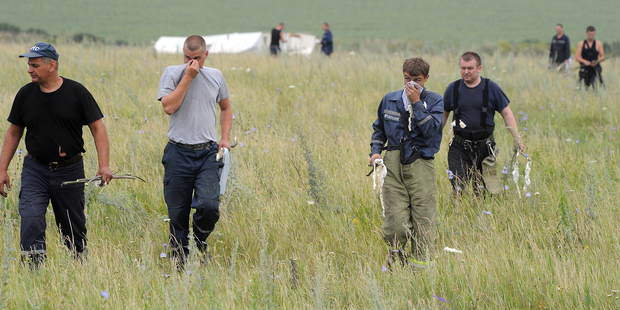 Tensions are ramping up between two global super powers after a Malaysia Airlines passenger flight was shot down over Ukraine.
United States intelligence authorities said a surface-to-air missile downed MH17, killing 298 people, but could not say who fired it.
US senator John McCain vowed there would be "hell to pay" if it was fired by rebels or Russian backers.
At the crash site yesterday, body parts and charred wreckage were strewn over 14km, suggesting the aircraft broke up midair.
Russian military or pro-Russia militants are thought to be responsible for shooting MH17 down with a Buk surface-to-air missile.
Read also:
• Thugs knew jet wasn't military: expert
• Black humour turns chillingly accurate
• Malaysia PM says route was deemed safe
• US, West leaders delve for facts
Separatist rebels who control the area where the plane went down said they had recovered "most" of the aircraft's black boxes and were considering what to do with them.
Ukraine, whose investigators have no access to the area, has called for an international probe to determine who attacked the plane. It has insisted it was not its military. Ukrainian President Petro Poroshenko called the attack an "act of terrorism".
Russian President Vladimir Putin blamed the Ukraine for the incident but did not deny that Russian separatists had shot the aircraft down.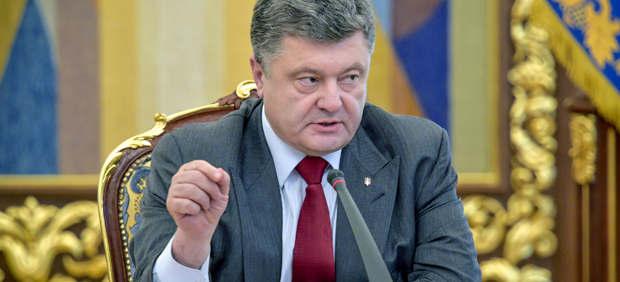 The Ukrainian President called the attack an 'act of terrorism'. Photo / AP
Airlines had been advised to cease flights over the volatile region. But numerous passenger flights had continued to ply the route until yesterday, carrying thousands of passengers.
New Zealand and Australia announced they were sending representatives to the scene and have demanded Russian authorities permit proper access to the crash site.
New Zealand Foreign Minister Murray McCully said the consul from the New Zealand Embassy in Moscow was joining an Australian team being deployed to the Ukraine.
The acting secretary of foreign affairs, Bede Corry, met with acting Russian ambassador and deputy head of mission Mikhail Korneev in Wellington yesterday.
Mr McCully said the meeting was "to make very clear the expectation of the New Zealand Government that there will be every co-operation with independent investigators and with those carrying out consular work".
There were also calls from the US for the area to be properly secured as a crime scene.

People pay tribute to the victims near the Dutch embassy in Kiev. Photo / AP
The doomed flight had been due to touch down in Melbourne last night. Among its passengers were top HIV researchers and delegates bound for a conference in Melbourne. A Catholic nun is among the dead along with dozens of children and three infants.
Malaysia Airlines believed it was safe to fly over Ukraine. It was cruising above a perceived threat zone that land-based weapons were not meant to be able to penetrate. All aircraft are now avoiding the air space.
Nine Britons and 154 Dutch have been confirmed dead, along with 28 Australians, 43 Malaysians and 12 Indonesians. Twenty-three Americans were among the dead and at least two New Zealanders were confirmed aboard MH17.
Meanwhile, Ukrainians released a recording between a fighter they claimed was a Russian intelligence officer and a separatist who apparently admitted shooting down a "civilian" aircraft.
"All roads lead to the Russians to some degree," a US official told the Wall Street Journal.