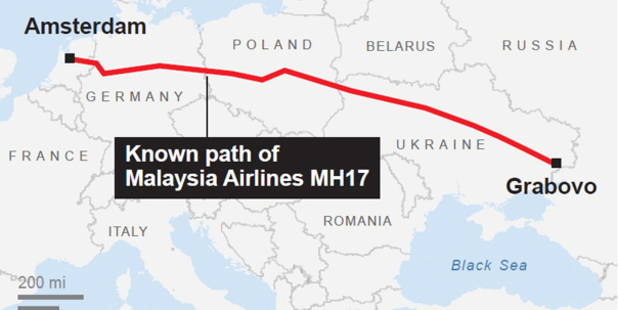 Everything you need to know about Malaysian Airlines MH17, which was shot down over Ukraine.
Read more:
• LIVE UPDATES
• Malaysia Airlines jet shot down
What we know
• Malaysian Airlines MH17 departed from Amsterdam Airport Schiphol at 12.14pm Thursday local time and was expected to land at Kuala Lumpur 6.10am Friday local time (10am NZ time Friday).
Watch: Malaysian plane shot down over Ukraine

• 295 people were on board - 280 passengers and 15 crew.
• The Malaysia Airlines plane is a Boeing 777-200ER, which was delivered to Malaysia Airlines on July 30, 1997. It has more than 43,000 hours of flight time and 6,950 takeoffs and landings.
• Malaysia Airlines tweeted that it lost contact with one of its flights as it was traveling from Amsterdam to Kuala Lumpur over Ukrainian airspace.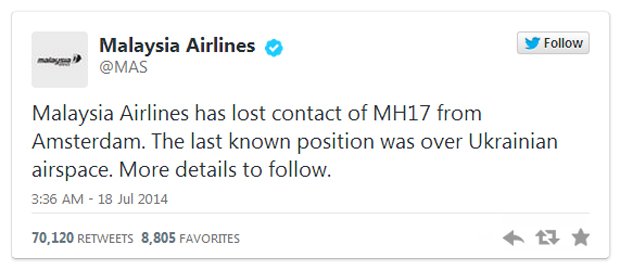 • According to Malaysia Airlines, air traffic control lost contact with the plane at 2:15 local time.
Watch: Ukraine leader says crash was a 'terrorist act'

• Anton Gerashenko, an adviser to Ukraine's interior minister, said on his Facebook page the plane was flying at an altitude of 10,000 metres (33,000 feet). He said it was hit by a missile fired from a Buk launcher, which can fire missiles up to an altitude of 22,000 metres (72,000 feet).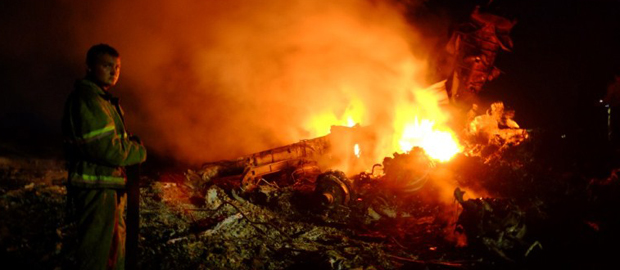 A firefighter stands as flames burst amongst the wreckage. Photo / AFP
• The Donetsk region government said a plane crashed Thursday near a village called Grabovo, which it said is currently under the control of armed pro-Russian separatists. The region where the flight was lost has seen severe fighting between Ukrainian forces and pro-Russia separatist rebels in recent days.
• An incomplete flight manifest showed 154 Dutch citizens were on board. Also on board were 27 Australians, 23 Malaysians, 11 Indonesians, six UK citizens, four Germans, four French, four Belgium nationals, three Filipinos and one Canadian.An infant was among those on board. The nationality of the other 58 passengers on board had yet to be determined.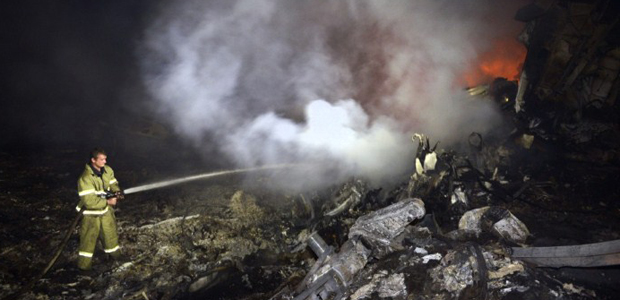 The wreckage of the Malaysia Airlines jet. Photo / AFP
• 80 children are among the 280 passengers.
• The following major airlines have confirmed they are avoiding Ukraine airspace:
- Lufthansa
- KLM
- Aeroflot
- Virgin Airlines
- Delta
- Air France
- British Airways
A quick look on @flightradar24 and you can see the move away from Ukraine airspace pic.twitter.com/lS3OI5O8Ug

— PlaneTalking (@Plane_Talking) July 17, 2014
Photos: Malaysia Airlines plane shot down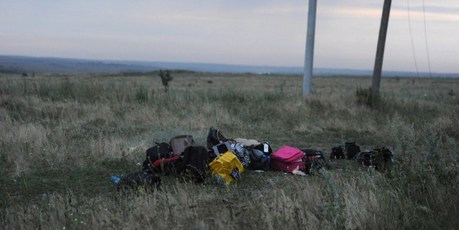 What we don't know
Who is responsible
Ukrainian President Petro Poroshenko said his country's armed forces didn't shoot at any airborne targets.
Donetsk separatist leader Andrei Purgin said that he was certain that Ukrainian troops had shot it down but gave no explanation for that statement.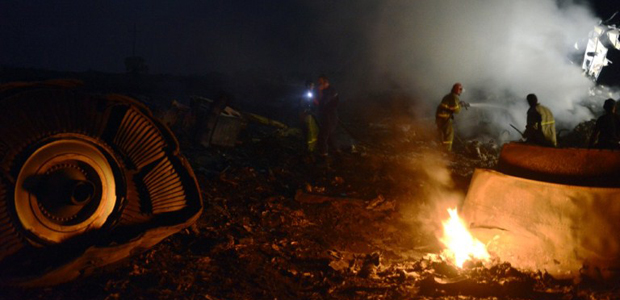 Firefighters amongst the wreckage of the Malaysia Airlines jet. Photo / AFP
The BUK surface-to-air missile system believed to have shot down MH17 is an old Soviet-built weapon designed to engage aircraft, cruise missiles and drones.
A launcher similar to the BUK missile system was seen earlier today by journalists near the eastern town of Snizhne, which is held by pro-Russia rebels.
Watch: Smoke cloud from impact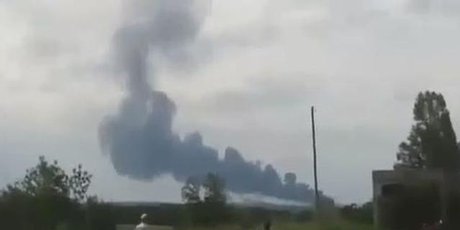 Whether any Kiwis were on board
There are indications one New Zealand passport holder was on board.
Foreign Minister Murray McCully has just released a statement saying MFAT is following up on indications that at least one New Zealand passport holder, and other passengers with New Zealand connections, may have been on board.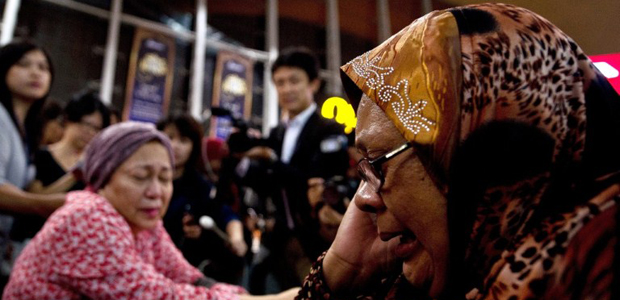 Relatives of passengers from Amsterdam outside the family holding area at the Kuala Lumpur International Airport. Photo / AFP
A MFAT spokeswoman said the Ministry was following up to ascertain whether any New Zealanders were on board the flight. 58 passengers on board had yet to be determined.
The New Zealand High Commission in Kuala Lumpur had been in contact with Malaysia Airlines, however the airline had advised that the passenger manifest was not yet available, the spokeswoman said.
"A consular representative from the New Zealand Embassy in The Hague is en route to Schiphol Airport where we understand a Crisis Coordination has been activated by the Dutch authorities."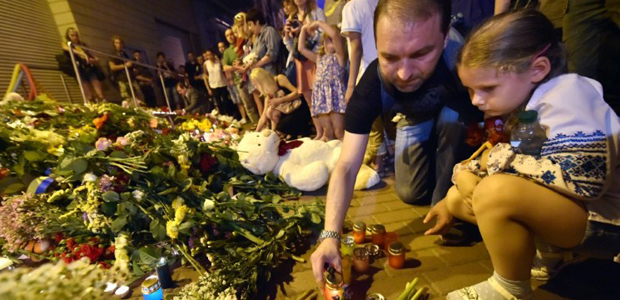 A man lights a candle in front of the Embassy of the Netherlands in Kiev. Photo / AFP
Dutch state broadcaster NOS reported that one of the country's travel agencies had 25 people booked aboard the flight, some headed to Kuala Lumpur and others planning to continue to Australia and New Zealand, American cable channel CBNC reported.