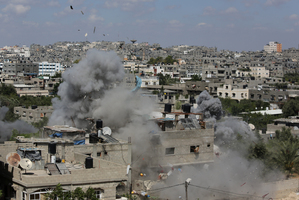 The death toll from Israel's ongoing air campaign against Gaza militants has risen to 176, as a UN official said more than a quarter of the victims were children.
So far, more than 1280 people have been wounded.
The Gaza-based Palestinian Centre for Human Rights (PCHR) said more than three-quarters of the victims were civilians. The United Nations Relief and Works Agency for Palestine Refugees (UNRWA) has said more than a quarter of them were children.
Watch: Israel, Gaza exchange rocket fire

"All indications are, and I find this particularly dramatic, that women and children make up a sizeable number of the victims of the current strikes.
Currently more than one quarter of the fatalities are children," UNRWA Commissioner-General Pierre Krahenbuhl said.
The bloodiest day so far was on Saturday when 56 people were killed in a series of deadly strikes, Qudra said.
No Israelis have been killed, although three people in the Jewish state have been seriously wounded since the start of the operation, medics said.
In the latest strikes on Monday, local time, a 37-year-old was killed when a missile struck a group of men near the southern city of Khan Yunis, emergency services spokesman Ashraf al-Qudra said.
Watch more: Hamas fires dozens of rockets over Israel

A 60-year-old man was killed in a raid on a house in Deir al-Balah in central Gaza, and two other people died in separate strikes elsewhere in the coastal enclave, Qudra said, without giving details.
Earlier, a man and a woman injured in weekend air strikes died of their injuries, he said, raising to six the number of lives lost on Monday as a result of the ongoing air campaign.
Israel began Operation Protective Edge before dawn last Tuesday in an attempt to halt cross-border rocket fire by militant groups.
Since then, more than 800 rockets have hit Israel, while some 187 others have been intercepted by its Iron Dome air defence system, the army said. Of that number, 55 rockets struck Israel on Sunday with another 12 shot down, a spokesman said.
Read more:
* Drone from Gaza brought down
* Israeli missiles destroy home for the disabled
* Israel ignores ceasefire appeals, widens range of bombing
Washington has warned its Israeli ally against any ground invasion of Gaza. The White House stopped short of criticising Israel over the civilian casualty toll from its devastating air and artillery bombardment of the densely populated Palestinian enclave.
It said the Israeli government had the "right" and "responsibility" to defend its citizens against rocket attacks by its Islamist foe Hamas from its Gaza stronghold. But it said even more civilians would be put at risk were Israeli Prime Minister Benjamin Netanyahu to heed hardliners in his governing coalition and send in troops and armour.
Growing calls for a ceasefire have so far showed little sign of progress.
Ahead of an emergency meeting of Arab foreign ministers in Cairo, Hamas shot down hopes of a deal to end the violence, saying no serious moves had been made. "Talk of a ceasefire requires real and serious efforts, which we haven't seen so far," Hamas MP Mushir al-Masri said in Gaza City.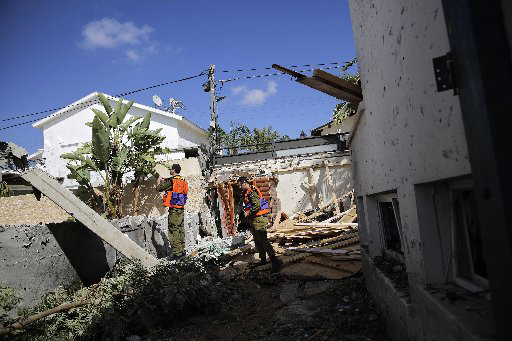 Palestinians confront Israeli soldiers during a demonstration against Israeli military action in Gaza. Photo / AP
"Any ceasefire must be based on the conditions we have outlined. Nothing less than that will be accepted," he said, in a show of defiance in the face of the withering Israeli bombardment.
Israel says it is not ready to countenance a ceasefire either, as it seeks to deal ever harsher blows to Hamas and stamp out its capacity to fire rockets deep into the Jewish state.
In a bid to add Washington's weight to truce efforts, US Secretary of State John Kerry is to fly into Cairo on Tuesday, Egyptian state media reported.
There was no immediate comment from the State Department, with Israeli press reports suggesting Kerry would also visit Jerusalem and the West Bank city of Ramallah, headquarters of Palestinian president Mahmud Abbas.
While Arab states have demanded an immediate halt to Israel's military campaign, with Jordan's King Abdullah II urging Israel to "stop targeting civilians", Germany's top diplomat said Hamas should "immediately" halt its rocket fire.
- AFP / AAP