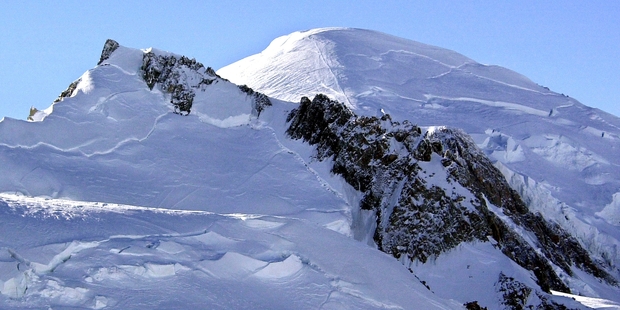 In a long-gone era of climbing, it was the Everest of its time.
Mont Blanc, the highest mountain in the Alps, was so tough that when two men first reached its summit in 1786, it marked the birth of modern mountaineering.
More than two centuries on, the 4572m "Roof of Europe" is dwarfed by challenges in the Himalayas - yet it can still be a perilous place even for experienced mountaineers.
Some 25,000 people attempt to scale Europe's tallest mountain every year - and their sometimes breathtaking amateurism is stoking anger among the local French community.
The matter came to a head last week when it emerged French officials had refused to airlift a Polish climber off Mont Blanc after he rang mountain rescue from the Refuge du Gouter at 3810m - the last stop before the summit - saying that he did not want to walk back "on his own steam".
"He didn't feel able to go back down to Tete Rousse refuge on foot because he was scared," said Patrice Ribes of the Chamonix high mountain gendarmerie unit. "A guide happened to be nearby and offered to help him get down, but he refused and demanded that we come and rescue him by helicopter immediately."
However, as he was "neither injured nor in distress, we told him we couldn't come and get him, that he should recover and go back down on his means".
Exasperated, the unnamed Pole, who lives in Aberdeen, decided to charter a private helicopter to pick him up.
That only further angered Jean-Marc Peillex, the Mayor of nearby Saint-Gervais, who promptly denied the climber permission to fly over his village. "Is the PGHM [mountain rescue squad] going to have to get a taxi licence?" asked Peillex. "The demands of these 'ad hoc alpinists' reflects the urban consumer's state of mind, which demands security and service at all times. But the ascension of Mont Blanc is a matter for mountaineers in a natural setting that dictates its own laws. It is not an amusement park."
At first the Pole refused to budge, "squatting" in the Gouter hut.
After 48 hours in the shelter, the Pole paid for a guide to help him retrace his steps down to the valley below. Just a few days ago, another two Poles ignored warnings of bad weather to attempt an ascent, only to call mountain rescue for help after losing their way between the Gouter and Vallot refuges. Again, the PGHM refused to fly up a helicopter because of the conditions.
Last month, one climber was within a few hundred metres of the summit but was forced to call in rescue services because someone had stolen his walking boots. "When we find people in that situation, we extract them by helicopter. We don't leave them in their socks. It's pretty dangerous," explained Jean-Baptiste Estachy, the mountain rescue chief.
A couple of years ago, Sir Richard Branson, the Virgin tycoon, attempted to scale Mont Blanc with a group including Princess Beatrice to launch a charitable trust. When they reached the old Gouter refuge, they had not booked enough places, according to Peillex. So they demanded to be housed in the new refuge which was under construction. "Naturally we refused," said the Mayor. "If Mr Branson wants to fly to the moon, then so be it, but when he climbs Mont Blanc from Saint Gervais, I'm the mayor, not him."
Eventually, Branson reached the summit, descended part of its Italian slope and got a helicopter to ferry him down.
The official irritation can be partly explained by the dizzying numbers of people attempting to scale the summit. Rescuers are called in between 80 and 100 times each year, sometimes several times a day.
Mont Blanc
Famous as: Highest mountain in Alps, and Europe
Height: 4572m
Popularity: 25,000 people attempt to scale it every year
History: Summit first reached in 1786