153 people stranded at sea as decision on appeal is made and Australia considers detention camp options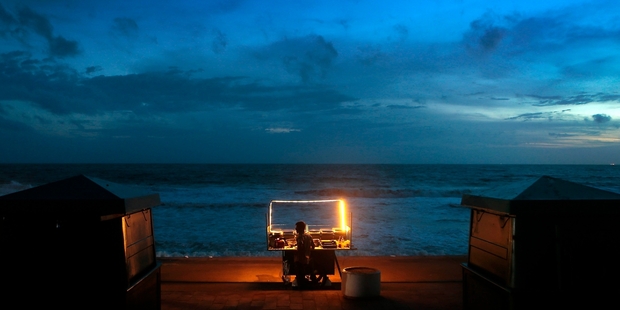 Somewhere on the high seas, packed aboard an Australian Customs patrol boat, more than 153 asylum seekers face another three weeks in limbo as the High Court decides whether to hear an appeal to block their return to Sri Lanka.
But even that fate is now increasingly uncertain. Sri Lanka does not intend taking them back, India is rejecting claims the boat left from its territory as reports suggest, and the ethnicity of 60 of the 153 asylum seekers is unknown.
There are suggestions the Australian Government may instead transfer them to detention centres on Nauru or Manus Island in Papua New Guinea.
The big centre on Christmas Island is unlikely to receive any. It is already packed and has now become a new focus for attention following reports in Fairfax newspapers that 12 mothers there have attempted suicide to give their children a better chance of being accepted as refugees.
Prime Minister Tony Abbott told Channel Nine Australia would not be moved by harrowing tales: "This is not going to be a Government which has our policy driven by people who are attempting to hold us over a moral barrel.
We won't be driven by that."
Since coming to power last year Abbott has added new layers to the nation's already harsh laws on asylum seekers. None will be allowed to settle in Australia even if accepted to be refugees, and passengers on intercepted boats are turned back to Indonesia.
All operations by Navy and border protection vessels are cloaked in secrecy with few details emerging. Reports only come through the media and are rarely confirmed by the Government.
The interception of the asylum seekers now aboard the Customs boat, and another earlier boat, emerged only because of media reports. The Government was finally forced to confirm the interception of one boat and the transfer at sea of its more than 40 passengers and crew to a Sri Lankan warship last Sunday.
They have since appeared in court in the southern city of Galle after being handed to the Criminal Investigation Department on their return. The court released 27 on bail, nine children were discharged, and five crew were held in custody.
Their arrival at Galle, and the fate of the other asylum seekers at sea, has attracted intense international scrutiny, adding to pressure on the Government.
As well as criticism by the United Nations and groups such as Amnesty International, major foreign newspapers have slammed the Government.
The New York Times said Australia's draconian measures failed to uphold its international obligations, and Britain's Independent said the nation faced international condemnation.
Prominent academics and experts in international law also say Abbott's policy breached key agreements including the Refugee Convention.
The High Court action launched by lawyers acting for asylum seekers still at sea has finally forced confirmation of their interception and extracted the first, still sparse, details.
The Government has confirmed it is processing asylum seekers through "enhanced screening" involving just four questions posed by teleconferencing. Lawyers, human rights groups and refugee advocates say this contravenes the Refugee Convention and denies the right to challenge decisions. The legality of the process is being challenged in the High Court.
The Government says the boat was intercepted outside Australia's migration zone, meaning that its passengers had no right to claim asylum.
The High Court has adjourned the hearing until tomorrow, when Government lawyers are expected to present more details. But a decision on whether to accept the case, and a hearing by the Full Bench, could be weeks away.
The Government has said it will give 72 hours notice of any transfer of the asylum seekers to Sri Lanka, which says it will not accept them.
"I can categorically deny and reject any plans of Sri Lanka to take over the suspected, speculated, presumed asylum seekers coming from India," the country's High Commissioner to Australia, Admiral Thisara Samarasinghe, told the ABC.

First boat
41 Sri Lankan Tamils picked up near the Cocos Islands already sent back to Sri Lanka
27 have been released on bail, nine children discharged, and five crew in custody
Second boat
153 asylum seekers stranded at sea
31 women and
37 children as young as 2 onboard