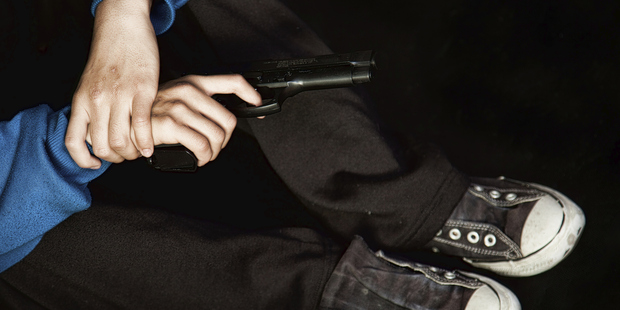 Dequan Wright, a cocky, charming former high school football player from Richmond, California, was only 14 when he was sentenced to a year in jail for firearms offences.
Of the 12 other boys he called close friends when he was growing up, one is dead and 10 are behind bars. He would most likely be back there too, he says, if not for the involvement of the Office of Neighbourhood Safety, an experimental mentorship programme introduced to the city several years ago to try to stem the flow of shooting deaths.
Now 20, Wright wants to become a barber and a responsible father to his two young sons. The ONS is trying to find somewhere for him to train, and trying to keep him out of trouble. Not long ago, he recalls, he drove to the wrong part of town, apparently to provoke a showdown with rivals.
ONS workers read his mind. "I made it to the park and they were already there. They told me I should leave," he says. Without that intervention, "Something would probably have happened - and I probably would have been incarcerated."
While homicide rates have fallen dramatically across the US over the past two decades, many neighbourhoods still suffer from endemic urban gun violence. Richmond, a community of about 100,000 - so close to wealthy San Francisco its residents can see the skyscrapers across the bay, is one such city.
Decades of tough policing failed to alleviate the problem, and in 2007 the authorities turned to youth mentoring consultant Devone Boggan. "People say: you have to deal with the race problem, the education problem, the employment situation, gun policy. I agree," Boggan says. "But we didn't have the luxury of time to deal with all those things. What makes the ONS one-of-a-kind is that it has a single, specific focus: reduce firearm-related assault and injury. The question we ask ourselves is: how do I get these young men to stop shooting today?"
Boggan and his associates use crime records, street smarts and information from the community to identify the Richmond residents most likely to engage in gun violence, and then offer them the opportunity to join the ONS Peacemaker Fellowship, an 18-month outreach programme for young men failed by the legal system or by social services. Boggan says around 80 per cent accept the invitation.
Headquartered at City Hall, the ONS runs with the co-operation but not the collaboration of police. Each man is mentored by one of six ONS case managers - five of whom are former convicted felons - who train them to avoid the conflicts that might lead to violence, and help them to create a "life plan" that includes career and family goals.
Watch: Gunman dead in latest US school shooting
But its most novel innovation has also proved to be its most controversial: it offers a cash incentive to its participants. Every two months, if they take up an internship organised by ONS, or achieve another of their stated goals, the fellows can receive between US$300 ($340) and US$1000. The city provides an operating budget for the ONS, but the stipends are funded by private donors.
Boggan says less than 50 per cent of the fellows have received a stipend, and few received the full US$1000. His critics accuse him of paying criminals to behave, but the tactic might just be working.
In 2009 there were 45 homicides in Richmond. In 2013 there were 16 - the lowest number since 1980. There have been just seven this year.
Boggan, 47, is easily identified by a houndstooth trilby that belonged to his earliest mentor, his grandfather. His father left the family's Michigan home when he was 9, leaving his mother in dire financial straits and young Devone resentful of male authority figures. His youngest brother was killed on the streets of Michigan, and as a teenager he was arrested for selling drugs.
If not for the intervention of two more mentors Boggan might have followed a darker path. Instead he ended up at Berkeley, and became a mentor.
Homicide rates are falling faster in Richmond than nationally. But there is not any data to prove the ONS is responsible for the progress, which is why the National Council on Crime and Delinquency is conducting a three-year study of the fellowship. Boggan says: "The fellowship is a partnership with these young men, and they are ultimately responsible for the reductions in gun violence because they're the ones who made the decision to stop shooting."
- Independent