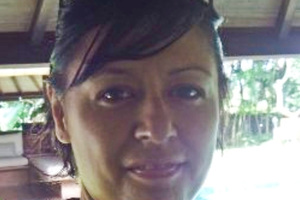 Kiwi woman Leeza Ormsby will serve 10 months behind bars in a Bali prison for smoking half a joint while on holiday on the Indonesian island.
The 37-year-old was this evening (NZ Time) sentenced to almost a year in jail by a judge in Denpasar District Court - five months less than the prosecution asked for.
The New Zealander was arrested in February after being caught at the scene of a drug bust at a holiday villa in north Kuta. She was found to have a half-smoked joint in her handbag.
She faced up to 12 years in prison on drugs possession charges, but prosecutors recommended Ormsby serve 15 months.
Her defence successfully argued she be viewed as a drug user, with the court hearing she had previously been treated for depression and heroin use.
Under Bali law a drug user is seen as a victim, and provided some leniency by the courts.
She was also given credit for admitting her guilt.
Ormsby has been in custody at Kerobokan Prison since she was charged in May, the same jail Australian Schapelle Corby served her time for drug smuggling.
The Sydney-based Kiwi was arrested during a police raid of a holiday villa. Inside they found MDMA and hashish in a drawer.
Ormsby was not charged in relation to the larger quantities of drugs uncovered in the villa, but solely on the hashish joint found in her handbag.
Ormsby had not been staying at the villa, but had been given the key by Australian DJ Marco Mazzucco, who was also on holiday in Bali.
Mr Mazzucco had been given the keys by Sydney musician Azaria Byrne, who had rented the villa for three nights, but left early.
Both have denied knowing about any drugs in the villa.
- with AAP
- APNZ