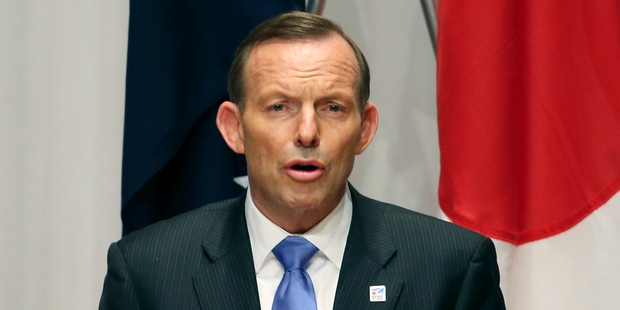 The Senate that has frustrated Tony Abbott since he won power last September dissolves today, leaving Australia's embattled Prime Minister to survey the wreckage of his Budget and his chances of rebuilding it with a new Upper House.
Roadblocks built by Labor and the Greens have prevented many of his planned measures from coming into effect on July 1 as intended, and even when the new Senate takes its seats next week at least A$2 billion ($2.16 billion) will be blasted from his books.
Abbott already has one trigger for a double dissolution election - in which the entire Upper House would be up for grabs rather than the half normally contested - and it is likely the new Senate will provide him with others.
Although Abbott has hinted several times that he could take Australia to a new election, political realities stand in his way.
The Prime Minister and his conservative Government remain terminally unpopular in the polls despite recent incremental gains.
His Budget has been overwhelmingly rejected.
Almost two months after it was brought down by Treasurer Joe Hockey, the Government is still trying to sell it to a sceptical nation.
In the normal run of Australian politics, it would be old news by now with the bulk of it passed by Parliament.
Abbott is hoping that when Labor and the Greens lose the balance of power in the Upper House next week he will able to win over enough independent and micro-party senators to push his legislation through.
This will require the support of six of the eight crossbenchers - half of whom will be controlled by mining magnate Clive Palmer, whose United Party has three senators and an alliance with Motoring Enthusiasts Party senator Rickey Muir.
Palmer has already made it clear he will not be a pushover and is likely to oppose some key Budget measures. Abbott will meet him today, their first meeting since an angry row two years ago.
Palmer and his senators met yesterday to finalise their stand on a number of crucial bills and were expected to formally announce their position last night.
Palmer has previously indicated PUP is likely to support Abbott's stalled repeal of the carbon and mining taxes, ensuring their passage through the Senate.
But he has also said PUP will join Labor and the Greens in blocking the planned six-monthly indexation of the fuel excise - cutting A$2.4 billion from government revenues over four years - and opposes the tightening of pensions, a A$7 charge for previously free GP visits, and Abbott's "signature" paid parental leave scheme.
Other key measures also face possible defeat by Labor, Greens and crossbench senators, including plans to strip the dole for six months from jobless under-30s,and changes to family tax benefits, parenting payments and disability and age pensions.