Diplomacy seen as best weapon in campaign for liberation of Peter Greste and colleagues.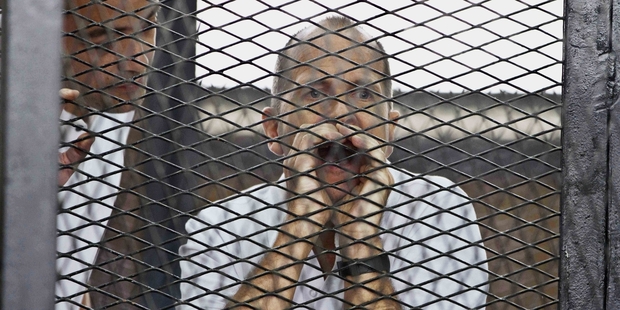 An international campaign ranging from diplomacy to petitions has started against Egypt after the jailing of Australian journalist Peter Greste and two Egyptian colleagues.
Greste, a correspondent with the Al Jazeera network, was sentenced to seven years' jail for spreading false news and supporting the outlawed Muslim Brotherhood. One colleague, Mohamed Fahmy, was sentenced to seven years and the third, Baher Mohamed, to an additional three years for possessing a single bullet.
Watch: Outrage after Egypt court convicts journalists

Three other journalists, Britons Sue Turton and Dominic Kane and Dutch reporter Rena Netjes, were sentenced to 10 years' jail in absentia.
Australia is lodging protests directly with Egyptian President Abdel-fattah al-Sisi and Cairo's ambassadors have been summoned to meetings with foreign ministers in Canberra, Britain and the Netherlands.
The United States has called on Egypt to pardon the trio or commute their sentences and release the men immediately.
US Secretary of State John Kerry described the convictions as "chilling and draconian", lacking many fundamental norms of due process and a deeply disturbing setback to Egypt's transition after the ousting of former President Mohamed Morsi last year.
British Foreign Secretary William Hague said the sentences were "unacceptable".
But Egypt's Foreign Ministry said it strongly rejected "any comment from a foreign party that casts doubt on the independence of the Egyptian judiciary and the justice of its verdicts".
In Brisbane yesterday, Greste's parents, Juris and Lois, said they would talk with all other groups and institutions and parties involved to determine their legal options. An appeal is being considered.
"We have to fight for Peter and we have to fight for his other two colleagues and for the cause of media freedom," Juris Greste said.
He said his son was an award-winning journalist and not a criminal, and the news had been a devastating "slap in the face and a kick in the groin to Australia and all fair-minded people".
Lois Greste said Peter was a very strong person: "This will be a hard time for him, but I know that he will get through it."
Outside the court Greste's two brothers were shattered.
"This is terribly devastating." Michael Greste told reporters. "I am stunned, dumbstruck."
Greste and his colleagues appear to have been caught in the political maelstrom unleashed when Morsi was ejected by a coup d'etat led by Sisi, then chief of the armed forces.
He began a brutal clampdown on the Muslim Brotherhood which backed Morsi, detaining tens of thousands and last week sentencing more than 180 of its leaders to death.
Sisi has also targeted the media, detaining more than 60 in the past year and focusing heavily on Al Jazeera, which is funded by the Gulf state of Qatar.
Cairo claims Qatar has been backing the Muslim Brotherhood. During Greste's trial prosecutors likened the relationship between Qatar and Al Jazeera to "an alliance with the devil".
Although "deeply dismayed and appalled" by Greste's conviction and the severity of the sentence, Australia is taking a measured public response in a bid to achieve an early release.
"What we don't want to do is engage in unhelpful megaphone diplomacy because that won't do Peter Greste any good," Prime Minister Tony Abbott said yesterday.
"The Egyptian court system does work at arm's length from the Government, but I do understand that once the court system has done its work then there are options for presidential acts, presidential clemency, presidential pardons and so on."
Labor said it would work with the Government and distanced itself from calls by the Greens for tough action.
"I think what will help [Greste] most is continued strong diplomatic representations to the Egyptian Government, using everything at our disposal," shadow foreign affairs minister Tanya Plibersek said.