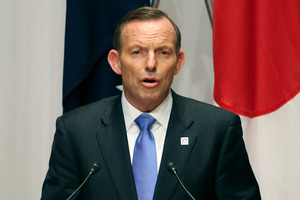 Australia is working on tough measures to keep Islamic militants out of the country including the possible stripping of citizenship from nationals who fight with extremists in the Middle East.
Sweeping new cyber powers for counter-terrorism agencies and a toughening of passport and border controls to block radicals from leaving the country may also be considered.
Fear is growing that trained and experienced fighters could return to unleash terrorism at home.
Measures are being considered by Cabinet's national security committee, given increased urgency by the rising numbers and prominence of Australians fighting in Syria and Iraq.
About 150 Australians are believed to have joined the ranks of extremists, the highest-per capita source of any Western nation, alarming United States President Barack Obama as well as Australian agencies.
"There is no doubt the problem in Syria is one that we have been paying a lot of attention to over the last couple of years as you see jihadists coming in from Europe and as far as Australia to get trained and then going back into their home countries," Obama told CNN.
Australians are known to be fighting with al-Qaeda-linked groups, and with Isis, the Islamic State of Iraq and al-Sham, rapidly gaining ground in Iraq and accused of mass murder and brutality.
Isis, described as one of the world's most deadly and active terrorist organisations, is outlawed in Australia.
Attorney-General George Brandis said this sent a strong message to potential jihadists, who could face up to 25 years in jail on their return home.
While surveillance has increased and a number of passports have been cancelled, many still slip through the net.
Khaled Sharrouf, jailed for four years after being convicted in Sydney on terrorism-related charges, used his brother's passport to evade authorities to join Isis in Iraq.
Others have appeared in Isis online recruiting videos, urging Australians to join the fight. The fear is that they will bring the war home with them.
Australia has already uncovered a number of home-grown terrorists, including two cells planning attacks in Melbourne and Sydney.
Describing jihadists as trained killers who hated Australia's way of life, Prime Minister Tony Abbott said the Government would do everything humanly possible to prevent their return to the country.