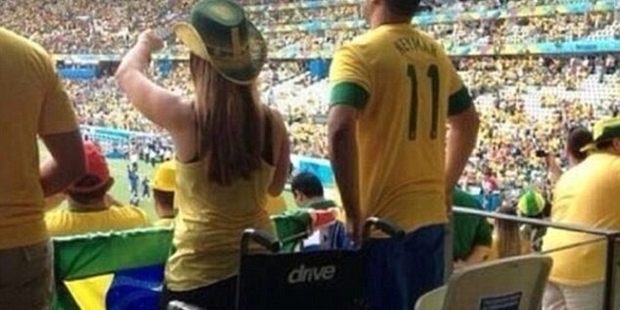 Even in Brazil where football is a religion, the miraculous sight of wheelchair-bound fans leaping from their seats has prompted calls for a police investigation into claims of ticket fraud.
Dozens of World Cup supporters, supposedly with mobility problems, have been shown on social media apparently unable to control their excitement at crucial moments.
Several were caught on security cameras during the opening game between Brazil and Croatia that the home team won 3-1.
Hundreds of tickets designated for fans with special needs were allegedly bought by touts and resold at the 66,000-seat Sao Paulo Arena.
In Brazil it is a criminal offence to sell a ticket for more than face value, touts facing four years in prison if caught, the Daily Mail reports. Despite that many have been caught selling tickets illegally at grounds and on sites like Facebook.
The tickets are being bought for up to 1000 ($1956) for a game, up to 10 times their face value. Disabled spots are thought to be particularly valuable because they come with a free extra ticket so wheelchair users can be accompanied.
Brazilian police are examining 22 images captured on closed-circuit TV and 30 more being circulated on social media after being captured by fans on their mobile phones.
Family of 14, each with 12 fingers
Meanwhile, a special Brazilian family is being closely followed by local media as the national team chases its sixth world football title.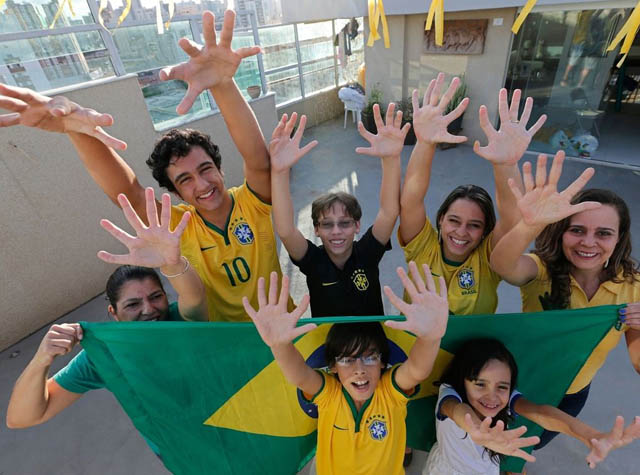 The Silva family are comfortable with all the attention. Photo / AP
The 14 members of the Silva family living in Aguas Claras, on the outskirts of the capital of Brasili, are crossing all six fingers on each hand for luck for Brazil's success in the World Cup. They were born with an extra digit on each hand as a result of a genetic condition. The dominant gene that causes polydactyly can also cause people to grow extra toes.
The family members are comfortable with the attention they receive from the media - which are filming them during the tournament.