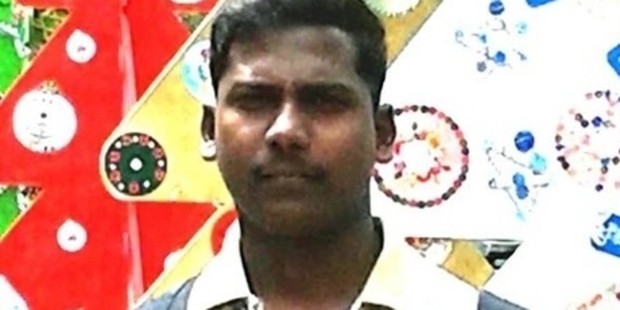 Esther Merrett first noticed the black smoke, then where it was coming from. In broad daylight, on a suburban Australian street, a man - dressed only in his underpants - had set himself on fire.
Esther is a nurse, and as the skin peeled from his body and he lost consciousness, she knew he wasn't long for the world.
In the days since Leo Seemanpillai's terrible demise, the 29-year-old who feared being sent back to persecution in his native Sri Lanka has become a sobering symbol of Australia's hardline approach against asylum seekers.
On Wednesday the hundreds who attended Leo's funeral in Geelong did not include his family. They wanted to be there, but the Abbott Government rejected their request to travel to Australia.
The decision appalled many and surprised few.
In 2011, after dozens perished when their boat crashed on to rocks at Christmas Island, rising Liberal Party star Scott Morrison railed against the Labor Government for paying for survivors to attend funerals of loved ones in Sydney. He suggested it would turn into a sight-seeing trip at taxpayers' expense.
But Morrison was only pushing the boundaries of a shameless theme that has strangled Australian political debate for years. The Coalition's relentless "stop the boats" mantra played a key role in its return to power last September, as well as entrenching already toxic public sentiment towards people trying to reach the lucky country on rickety wooden craft.
The overwhelming majority remain nameless and faceless, and now out of sight and mind in grim detention camps on Papua New Guinea and Nauru, but occasionally their stories emerge into wider view.
Leo wasn't the first Tamil asylum seeker to "self-immolate". He'd heard earlier this year about a man in Sydney who set himself on fire after being told he had to return to Sri Lanka.
Leo was also on a precarious temporary protection visa, and feared persecution, torture and even death if returned to a homeland haunted by the civil war that forced his parents to flee when he was 5. They still live in a refugee camp in India.
In Geelong the Catholic-raised would-be refugee became a well-known face in the local Tamil community, and attended Lutheran and Baptist churches.
He earned money cleaning trucks and volunteered at an aged care home.
"He was such a caring, gentle person," fellow volunteer Cathie Bond told the Age. He would help her distribute "welcome packs" to newly arrived asylum seekers.
But she also saw a troubled and depressed individual, racked by anxiety, who was hospitalised earlier this year.
Before Leo doused himself in petrol and set himself alight, friends feared he could take his own life.
At the funeral this week, Father Pan Jordan, also a Tamil, said "harsh, unjust and cruel" Australian government policies had killed him. Morrison previously indicated that he expected all Tamils to return to Sri Lanka.
"Our Government is proactively brutal and intentionally determined to break the spirits of people like Leo, who once imagined they would find protection from oppression in our care," Father Jordan said.
The Government says no boats have made it to Australia for six months, and public opinion also seems impervious to concerns over the "inhumane, unsafe and completely unsatisfactory" conditions of asylum seekers at the offshore camps.
That was the description used by two backbench Labor MPs, who this week urged their parliamentary party colleagues to call for the centres on Manus Island and Nauru to be shut down.
Moved to act after Manus detainee Reza Berati was beaten to death, and many others injured, they say Australia is in violation of its obligations under the United Nations Refugee Convention and other international treaties.
Although soundly defeated, the motion was the first sign of public unrest among Labor MPs who have come to associate compassion for asylum seekers with political death.
Barrister and human rights advocate Julian Burnside blamed the two major parties for establishing a "flawed system which disfigures this country".
"It is shameful that we are now trying to treat asylum seekers so harshly that they will be deterred from seeking our help at all," he wrote for Fairfax Media.
The self-interest that drives the political debate was less evident in Leo Seemanpillai's Australian experience.
As well as donating to charity and regularly giving blood, he also signed up as an organ donor. His kidneys, liver, a lung and an eye have helped save the lives of others in the country where he sought refuge.
Esther Merrett, who tried to comfort Leo as he lay dying, told the ABC of the sadness she feels for a young man so desperate he set himself on fire.
"The fact someone would do that to themselves rather than live probably means there's something very, very wrong with what's going on with asylum seekers," she said.